Former Rampage Beat Writer Dies
by Randy Snow
Originally posted on ArenaFan.com, Saturday, May 15, 2010
Gary Bond, who covered the Grand Rapids Rampage of the Arena Football League for the Grand Rapids Press, died on May 13 of an apparent heart attack. He was just 55 years old.

I first met Gary in 2003 when I began covering the Rampage for ArenaFan.com. I was just beginning my sports reporting career, so I looked to him as an example of how I should conduct myself; in the press box, during post-game press conferences and while interviewing coaches and players after each game. He was the first real sports reporter that I came in contact with when I was just starting out and it was his example that I looked to when I wanted to know how it was done. His example helped me develop my own style of writing and interviewing that I use today.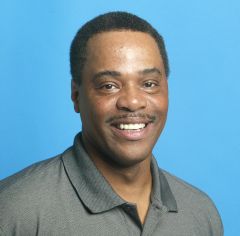 After I finished writing my Rampage article and had sent it in to ArenaFan to be posted, I would then go and look at what Gary had written. What angle did he use in his article? Who did he talk to after the game? What was his take on the teamís performance? I always came away thinking how much better his article was than mine, so I always tried to do a better job the next time.

In 2005, my oldest son and I were attending a University of Michigan game. As we walked around the stadium we ran into Gary, who was on his way to the press box to cover the game for The Press. We stopped and chatted for a few minutes about what we had been doing since the Rampage season had ended and then we went our separate ways. From The Big House to the Van Andel Arena, it seemed that Gary was always covering some sort of sporting event.

A few years ago, after I heard that he had been replaced on the Rampage beat by The Press, I e-mailed Gary and asked him what was up. He told me that it definitely was NOT his decision to be removed from Rampage coverage, but such was the life of a sports reporter. He was reassigned to cover the West Michigan Whitecaps, a minor league baseball team in Grand Rapids.

He was let go by the newspaper back in February of this year due to economic budget cuts, but he continued to cover the Whitecaps as a freelance writer. In fact, he was supposed to cover a Whitecaps game on the day he passed away.

While we may not have been close friends over the years, we did have the Rampage in common and the news of his passing was very sad to hear. Perhaps the news was even harder to take knowing that the team was no longer around either. He never knew the impact his work had in shaping my own, but I will never forget him. Rampage fans no longer have their team and now they have lost the man who wrote the stories that they read about the team each week. It is truly a sad day in Grand Rapids.