David put up a good fight, but it was Goliath who came out on top in the Continental Indoor Football League title game Saturday night (June 27) in Chicago. The Fort Wayne Freedom entered the game with a 7-5 record and faced the 13-0 Chicago Slaughter at the Sears Centre in Hoffman Estates, Illinois. The two teams met in the regular season back on April 18 in Fort Wayne with the Slaughter earning a hard fought 56-41 victory. This game was no different.

The Freedom got on the scoreboard first when quarterback Randy Hutchison connected with running back Luther Stroder on the second play from scrimmage for a 38-yard touchdown. That was the only score of the quarter as Chicago was shut out in the first quarter for the first time this season.

Fort Wayne maintained a 7-0 lead until Slaughter quarterback Russ Michna threw a six-yard touchdown pass to wide receiver Donavan Morgan at the start of the second quarter. The extra point was blocked, but the holder caught the ball and passed it to kicker Chris Nendick in the end zone for a two-point conversion. Chicago took the lead 8-7.

The lead changed hands six times in the first half and the score was tied 28-28 with 32 seconds remaining in the half. Fort Wayne coach Matt Land decided not to try for a field goal, and Hutchison's pass to the end zone fell incomplete. Chicago got the ball back with 4 seconds left on the clock and Nendick kicked a 52-yard field goal giving the Slaughter a 31-28 lead at halftime. The field goal was a new CIFL record. Ironically, it broke the previous record of 51 yards set in last year's CIFL championship game by Freedom kicker Brad Selent, who was playing for the Kalamazoo Xplosion at the time. Chicago's 31 second quarter points was also a new CIFL record for most points scored in a single quarter.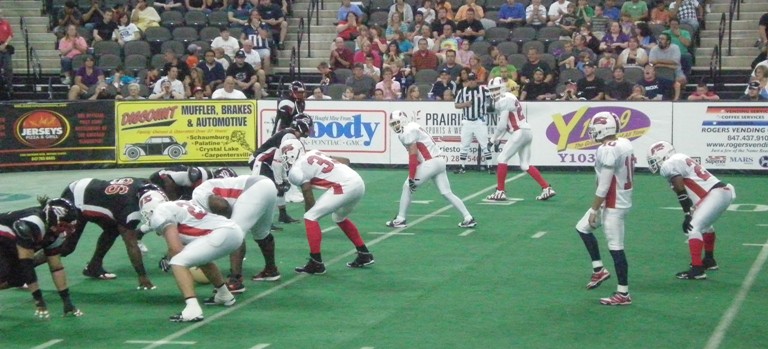 Early in the fourth quarter, the Freedom were down by just two points, 44-42 after Luther Stroder scored his fourth touchdown of the game on a 14-yard catch.
On Chicago's next possession, Slaughter wide receiver Bobby Sippio went up for a ball in the corner of the end zone and was pushed over the boards by a defender. He disappeared from view for several seconds. An official ran over to the sideline, looked over the boards and signaled a touchdown. It was not clear if Sippio had possession of the ball prior to going over the boards, but the official ruled it a touchdown anyway. That gave Chicago a 51-42 lead and the Slaughter held on for a 58-48 win.
Freedom quarterback Randy Hutchison was playing in his second straight CIFL Championship game and was pleased with his team's performance. "Last year, I thought we were the better team (vs. the Saginaw Sting)," said Hutchison after the game. "This year we were in a different role. We knew how good (Chicago) was, but we also knew what kind of team we had, and the kind of athletes we had. We thought we were just as good as (Chicago) at the skilled positions. If you look at the stats, I think that shows it. Overall, I'm happy with the way we played, the way we fought and the fan's supporting us."
By comparison, Hutchison completed 27-48 passes for 355 yards, five touchdowns and no interceptions for Fort Wayne. Michna completed 14 of 20 passes for 182 yards, seven touchdowns and no interceptions for Chicago.
Fort Wayne running back Luther Stroder caught seven passes for 109 yards and three touchdowns. He also ran 4 times for 14 yards and another touchdown. Wide receiver Nick Body had 13 catches for 183 yards and scored two touchdowns.
For the Chicago wide receivers, Donavan Morgan had five receptions for 78 yards and three touchdowns, Dontrell Jackson had five catches for 45 yards and one touchdown and Bobby Sippio had three catches for 51 yards and two touchdowns. Lineman Rob Boss also had an eight-yard touchdown catch as a tight end. Morgan was named MVP of the game and Michna was named League MVP for 2009.
The Slaughter finished the season with a perfect 14-0 record.
"We came here to win," said Freedom coach Matt Land. "I don't know why everyone else didn't think so. We get on the bus, we come to play football and to win. That's what my players did tonight. I couldn't be more proud of them."
"It was a phenomenal game," said Jeff Spitaleri, CIFL co-founder. "You've got to give credit to the Fort Wayne players and coaches. They played a great game."
DEJA VU
Several of the Freedom players were in last year's league championship game as members of the Kalamazoo Xplosion including quarterback Randy Hutchison, wide receiver Dan Museliwicz, lineman Anthony Harris and kicker Brad Selent. That team also came up short in the title game, falling to the Saginaw Sting 41-38.
Two other former Xplosion players also played for the Freedom this season, but were unable to make it play in the title game because of conflicts, defensive back David Gator and wide receiver Brian Dolph. Gator was on his honeymoon and Dolph had no one to watch his children. You see, Dolph's wife has been deployed to Iraq for the past year while serving in the Army. She is returning home next month.