The Grave of George Gipp
by Randy Snow
Originally posted on AmericanChronicle.com, Friday, May 15, 2009
A few years ago, I went to South Bend, Indiana and visited the grave of legendary Notre Dame Football coach Knute Rockne. Whether you are a Notre Dame fan or not, any student of college football history knows of the contributions that Rockne made to the game and I just wanted to pay my respects. And when you talk about Notre Dame Football, there is one other legendary name that is synonymous with the school, George Gipp.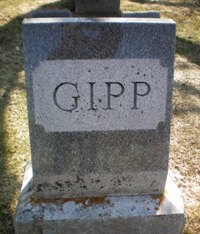 Rockne coached at Notre Dame from 1918-1930 and Gipp was on the team from 1917-1920. Gipp was the very first All-American from Notre Dame back in 1920. In 1918, he even shared the backfield with Curly Lambeau, the man who went on to found the NFLīs Green Bay Packers.

While Rockneīs grave is relatively close to where I live in Kalamazoo, Michigan, about an hour and a half drive to the south in South Bend, Gipp is buried near the northernmost point in Michiganīs upper peninsula. It would require a 12-hour drive north and crossing the Mackinaw Bridge to find the final resting place of "The Gipper."

My son, Adam, and I left Kalamazoo and headed north until we reached the Mackinaw Bridge, the only structure that links upper and lower Michigan. It is the worldīs longest suspension bridge and was constructed between 1954 and 1957. It spans five miles in length between the cities of St. Ignace on the north shore and Mackinaw City on the south. As we drove across the U.P. we made a planned stop in the city of Marquette. As long as we were in the area, we wanted to get a first-hand look at a true hidden sports treasure in Michigan.

When it comes to domed football stadiums in Michigan, everyone is familiar with Ford Field in Detroit, the home of the NFL Detroit Lions. It was the site of Super Bowl XL in February 2006 and has a seating capacity of about 65,000. The Lions have called Ford Field home since 2002, but prior to that, they played in another domed stadium from 1975-2001, the 80,000 seat Pontiac Silverdome.

However, there is a third domed football stadium in the state, the Superior Dome on the campus of Northern Michigan University in Marquette. The Superior Dome is constructed entirely of wood and seats about 8,000 people. It opened in 1991. Not only does NMU play its home football games there, but it is also where high school football playoff games are held for teams in the upper peninsula. The Michigan high school football finals for all eight divisions are held at Ford Field the weekend after Thanksgiving.

We were a little disappointed when we got to the stadium and found that we could not actually get in. Earlier in the day, the stadium was the site of the NMU graduation commencement ceremony. We had to settle for taking our pictures outside the stadium to prove that we had been there, but we vowed to someday return and attend an NMU football game. From Marquette, it would be another four-hour drive north to find the cemetery where Gipp is buried.

George Gipp was born in the village of Laurium, Michigan in 1895. Laurium is located near the top of the Keweenaw Peninsula in Michiganīs Upper Peninsula. His childhood home is still there, located at 432 Hecla Street, and the village limit sign proudly tells visitors that this is Gippīs hometown.

There is even a George Gipp Recreation Area in Laurium that contains tennis courts, softball fields, horseshoe pits, volleyball and basketball courts as well as the George Gipp Arena.

Gipp is buried in the Lake View Cemetery in the neighboring village of Calumet, just a few miles away from his childhood home. To pinpoint his grave, I had gone to the web site www.findagrave.com and was able to find the section and plot number. It was a quiet Sunday morning when we arrived at the cemetery and we found his marker right away. Just knowing that he is buried in Section 20 made it very easy to find his grave as each section of the cemetery is clearly marked for visitors.
There is a large marker with the family name Gipp on it and behind it are the graves of several members of the Gipp family, including George. It is a small grey headstone that simply says George Gipp 1895-1920. He was one of eight children born to Matthew and Isabelle Gipp. There is no statue or monument to his legend or anything of the kind. Just a simple stone for a young man from a small town in northern Michigan who died much too soon.

I was struck by the remoteness of the area that Gipp grew up in. It must have been an incredible journey for him to find his way to Notre Dame almost 100 years ago and then to make a name for himself on the college gridiron.

According to the College Football Hall of Fame web site, Gipp is listed as a halfback, but he played many positions on the field. He could run, pass, kick field goals and extra points and he also played on defense. In his four years at Notre Dame, Gipp rushed for 2,341 yards, a school record that stood until 1978. He completed 93 passes for 1,769 yards and accounted for a total of 156 points including touchdowns, field goals and extra points. He was elected to the College Football Hall of Fame in 1951.

As the legend goes, Gipp, on his deathbed, told Rockne that someday he may need to inspire the team when they needed to win a big game. He told Rockne to have the boys "Win one for the Gipper." No one knows for sure if this conversation actually took place, but what is known is that on November 10, 1928, Rockne played the Gipp card during a halftime speech to his team in a game against Army. The Irish trailed the undefeated Cadets 6-0 at halftime and the Gipp story inspired the players so much that they went out and won the game 12-6.

Gipp died of pneumonia that was brought on by strep throat. He died on December 14, 1920 at the age of 25, shortly after he finished his senior football season at Notre Dame. The NFL was founded the year that Gipp died, but it would not be until 1925 that the NFL became more than just a cheap imitation to the wildly popular college game. That was the year that Red Grange from the University of Illinois signed with the Chicago Bears. It is entirely possible that Gipp never would have gone on to play pro football after college, however, since many of the prominent college players of that era did not.

On October 4, 2007, amid much controversy, Gippīs body was exhumed in order to perform a DNA test. A woman in Indiana had claimed for years that she was his daughter. The test proved once and for all that Gipp was not the womanīs father. Some of Gippīs relatives were not happy over the exhumation.

Unlike Rockne, who is buried in the city where he became a gridiron legend, Gipp is buried in a remote location that is well off the beaten path. The small town boy who soared to greatness for the University of Notre Dame rests quietly in the beautiful northern Michigan wilderness near the shores of Lake Superior.

It is one thing to read about someone like George Gipp and to know what he accomplished in life, but it really was humbling to walk the streets of his hometown and to visit his gravesite. The trip to Laurium and Calumet from Kalamazoo was a long one, about 1,200 miles round trip, but for Adam and me, it was worth it.

Links

Village of Laurium, Michigan Web Site

Find a Grave.com

George Gipp Homepage

My 2006 article, The Grave of Knute Rockne

Gippīs College Football Hall of Fame Page