Book Report: Heisman, The Man Behind The Trophy
by Randy Snow
Originally posted on Yahoo! Voices, Sunday, December 2, 2012
In the new book, Heisman: The Man Behind the Trophy, author John M. Heisman, the great-nephew of famed college football coach John W. Heisman, tells the story of his famous relative. Heisman was very influential in the development of the game of football during the late 1800s and early 1900s. Because of his contributions, his name will forever be associated with the best college football player in the country each season.
John W. Heisman was born in Cleveland, Ohio. His parents were German immigrants and his father, Michael, was a cooper, a wooden barrel maker. He moved his family to Titusville, Pennsylvania when oil was discovered there. He sold barrels to several upstart oil companies including the Columbia Oil Company, which was owned by John D. Rockefeller.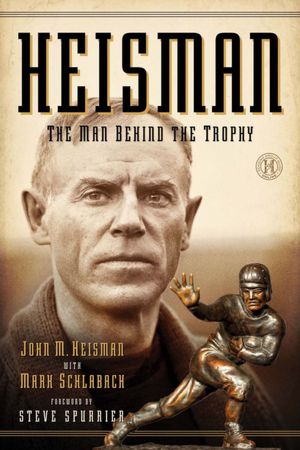 Heisman became obsessed with football while he was in high school. He went on to attend Brown University in 1888 and 1889, but the school did not have a football team at the time, so he transferred to the University of Pennsylvania, which did have a football team. He told his father, however, that the reason for the switch was because Penn had a Law School and Brown did not, but playing football was his main motivation. He played on the Penn football team in 1890 and 1891, graduating with a law degree in June 1892.
In 1893, at the age of 22, Heisman took a job as the head football coach at Oberlin College, just south of Cleveland. Oberlin had fielded its first football team the year before and was looking to improve its team. Heisman was not paid to be the coach at Oberlin. Instead, he was allowed to enroll as a student and even played on the team. He led the Yeoman to an undefeated season including a controversial "win" over the University of Michigan in the final game of the season. Both teams had agreed that the game would end promptly at 4:50 so that the Oberlin players could catch a train to return home that evening. Oberlin led 24-22 when the team left the field, but Michigan claimed that there was still time remaining. They lined up and walked the ball into the end zone for a 28-24 victory. (Touchdowns were worth 4 points at the time) To this day, Michigan lists the game as a victory in their record books.
In 1894, Heisman signed a one-year contract for $900 to be the gymnasium director as well as football and baseball coach at Buchtel College in Akron, Ohio. He also filled is as Oberlin's head coach when his replacement at the school quit mid-way through the season. Heisman returned to Oberlin full time in 1894. He even played on the team when needed.
Heisman was in love with a young woman named Edith Cole and wanted to marry her, but she became very sick with Tuberculosis and refused to marry him. She did not want him to endure her sickness and possible death which was all too common from TB at the time. Heisman was crushed and decided to leave Ohio to start a new life elsewhere.
He took a job as head coach at the Agricultural and Technical College of Alabama, which later became known as Auburn University. He coached there from 1895-1899. He would go on to coach at Clemson from 1900-1903 and at Georgia Tech from 1904-1919.
On October 29, 1903, Heisman married Evelyn McCollum in Columbia, South Carolina. Evelyn was a divorcee with a small son from her previous marriage. She worked as an actress with a local theater company. As it turns out, when he was not coaching football and baseball, Heisman too loved to act in stage plays during the summer months. He once performed on Broadway in 1898 and, over the years, he performed in many theaters throughout the south. In 1904, he and Evelyn formed the Heisman Stock Company, an acting troupe that toured throughout the summer.
While coaching at Georgia Tech, he led his team to the biggest one-sided victory in college football history. On October 7, 1916, his team beat Cumberland College 222-0. Earlier that year, the Cumberland baseball team had beaten Georgia Tech 22-0. Heisman was certain that Cumberland has used ringers in the game and wanted to beat their football team more than anything. Cumberland was in the process of phasing out football and several other sports at its school and only dressed 15 players when it faced Georgia Tech.
The following year, the United States entered World War I and many young men were drafted into the military. Many colleges and universities did not field football teams that year due to a lack of players. Heisman, however, managed to put together a team that went 9-0 and was voted national champions.
During the 1919 season, Heisman and Evelyn decided to divorce. She was an Atlanta native and planned to stay there. Heisman once again left the state to start a new life elsewhere. He returned to the University of Pennsylvania as head coach in 1920. He was there through 1922 but did not have the kind of success on the field that he had at Georgia Tech.
During his first season at Penn he was reunited with his first love, Edith Cole. She had recovered from her bout with Tuberculosis and had married a wealthy man from Colorado. She too had recently divorced and the two were soon married.
Heisman took the head coaching job at Washington & Jefferson College in Washington, Pennsylvania in 1923. He led the team to a 6-1-1 record in his first season at the school. However, the alumni were not happy with Heisman and called for his removal. Heisman left and became the head coach at Rice in Houston, Texas and coached there from 1924-1927.
Heisman coached his last football game on November 24, 1927, a 19-6 win over Baylor. He returned to New York where he wrote articles for newspapers and magazines and was part owner in a sporting goods store.
In May 1930, he was hired as the athletic director of the Downtown Athletic Club in New York. He had previously held similar positions with the Atlanta Athletic Club and the Houston Athletic Club.
In 1935, the DAC decided that it wanted to present an award honoring the best college football player in the country. A young 23-year-old sculptor named Frank Eliscu was hired to design the trophy. He used his friend Ed Smith, a running back from New York University, as his model. In order to accurately sculpt the body of a player stiff-arming a defender to avoid a tackle, Eliscu went to Fordham University where head coach Jim Crowley, one of the legendary Four Horsemen of Notre Dame in 1924, had several of his players demonstrate the technique.
Eliscu then took the model and showed it to Notre Dame head football coach Elmer Layden, another member of the 1924 Four Horsemen, at a dinner held in New York. Layden and his players loved it, so Eliscu cast the first bronze trophy.
Halfback Jay Berwanger from the University of Chicago was awarded the first Downtown Athletic Club Trophy on December 9, 1935. Heisman passed away on October 3, 1936 from complications of pneumonia. The DAC changed the name of the award to the Heisman Memorial Trophy in his honor. Just a few months later, the 1936 Heisman Trophy was awarded to Larry Kelley, an end from Yale.
After his funeral in New York, John W. Heisman was buried in Rhinelander, Wisconsin, where he and his wife had a summer home.
Heisman is credited with many innovations pertaining to the game of football including the center snap to begin a play (1893), the hidden ball trick play (1895), the audible "Hike" signal (1898), the lateral pass (1899), the Heisman Shift, dividing the game into quarters and something we all take for granted today, the football scoreboard. He was also a proponent for legalizing the forward pass long before it was adopted in 1906.
The game that we know and love today owes a great deal to John Heisman, one of the early pioneers in the sport and a man who changed the game forever.
This year's Heisman Trophy, the seventy-eighth, will be awarded on December 8.
Post Script
I visited the grave of John Heisman in Rhinelander, Wisconsin on July 1, 2014. (See picture above) I also wrote an article on that trip as well. Click here to read it.