Book Report: Tell Me To My Face
by Randy Snow
Originally posted on Yahoo! Voices, Friday, January 8, 2013
In the 2011 book, Tell Me to My Face, legendary Canadian Football League player Angelo Mosca tells the story of his life as well as his football and pro wrestling careers. The book is co-written by Steve Milton, a longtime Canadian newspaper reporter for the Hamilton Spectator. I found this book at The TigerTown Store in Hamilton last year when my youngest son and I were in town attending a Hamilton Tiger-Cats' game.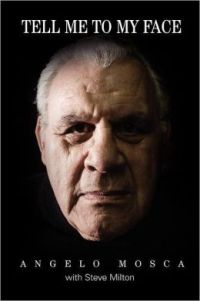 Mosca's father immigrated to the United States from Sicily in 1927 and settled in Waltham, Massachusetts. His mother was half Italian and half black. It was a rough childhood for Angelo and his five siblings. Both of his parents were alcoholics and his father was physically abusive. The kids were raised to be ashamed of their African-American heritage and so they were never allowed to talk about it.
Angelo started playing football in the ninth grade and he also did very well in school. (Having a photographic memory helped) Football gave him a way to release the inner anger that he had towards his father at the time. He left home at the age of 16 and moved in with his aunt, Fiona. Because he was such a good football player, he had 60 offers from colleges to play football. He chose Notre Dame. His best friend and roommate in college was Bronko Nagurski, Jr., who eventually became his teammate again in Hamilton.
While still in college, Mosca fell in love and married Darlene Goodrich in 1957. She was from South Bend. The college was not happy about its scholarship students being married at the time and Mosca's scholarship was soon taken away. He then enrolled in the University of Wyoming but he got into trouble and had to leave school. Mosca was organizing illegal card games on campus and was also taking bets on pro football games, something he learned from is father when he was a child.
He then signed a contract to play for the Hamilton Tiger-Cats of the Canadian Football League in 1958. He knew very little about Canada or the way the CFL game was played at the time, but he liked Hamilton as a city. After playing one season in the CFL he was drafted by the Philadelphia Eagles in the 1959 NFL Draft. He chose to stay in Hamilton.
He played there for two seasons and then was traded to the CFL Ottawa Rough Riders, where he played from 1960-1961. He won his first Grey Cup title with Ottawa in 1960.
In 1962, he re-signed with Hamilton and played there for the next 11 seasons until he retired in 1972. Over the course of his 15-year CFL career, Mosca played in a record nine Grey Cup games and won five titles. In 1968, he became a naturalized citizen of Canada as a result of the years he spent playing in the CFL.
Mosca will forever be associated with a single play that occurred during the 1963 Grey Cup game in Vancouver against the British Columbia Lions. It was a hit that occurred on Lions running back Willie Fleming. In the second quarter of the game, Fleming ran a sweep down the left sideline. He was tackled in bounds by two other players and a split second later, Mosca fell on top of him, his knee hitting Fleming in the back of the head. Fleming left the game with a concussion and Hamilton went on to win the game, 21-10. There was no penalty flag thrown on the play, but it cemented Mosca's reputation as a dirty, nasty player, something that he built a second sports career around.
After football, he went into professional wrestling full time. He began wrestling during the football off seasons in 1960. He wrestled under the name King Kong Mosca and mostly played a villain. Towards the end of his wrestling career, his son, Angelo Jr., also became a pro wrestler. The two formed a tag team and toured the wrestling circuit together for several years. When he retired from wrestling in 1989 he continued to manage his son's career for several more years. Mosca was inducted into the Canadian Football Hall of Fame in 1987.
Perhaps the only thing he is known for outside of Canada is a fight he had in 2011 with another former CFL player, quarterback Joe Kapp. The two were appearing at a luncheon prior to the Grey Cup game and had a long history of not getting along. Kapp approached Mosca with a flower from one of the tables and stuck it in his face. Mosca hit Kapp in the head with his cane and Kapp slugged Mosca in the face, knocking him off the stage. The video of their exchange went viral soon afterwards. It was shown many times on ESPN's Sportscenter as well as on many other sports programs.
The title of the book comes from a Schick razor blade commercial that Mosca did many years ago in Canada. At the end of the commercial, he looks menacingly into the camera and says that if you don't believe he got a great shave, you could "tell me, to my face."
This was a fascinating book and I may never have found it if I had not been in Hamilton for a game. Whether you like Angelo Mosca or despise him, there is no argument that he is one of the best known players in CFL History. His story of overcoming a bad childhood to the heights of not one, but two, professional sports careers, is very much worth reading.