An Xplosion in Kalamazoo
By Randy Snow
Originally posted on OurSportsCentral.com, Monday, October 25, 2006
At a press conference earlier today, the Kalamazoo Xplosion, of the Continental Indoor Football League, was officially introduced to the public. Team owners Mike Johnson and Mike Trumbull met with the media at the CIFL expansion team's home arena, Wings Stadium.
The CIFL is heading into its second season in 2007 and has expanded from six to 14 teams. During its first season, the league was known as the Great Lakes Indoor Football League.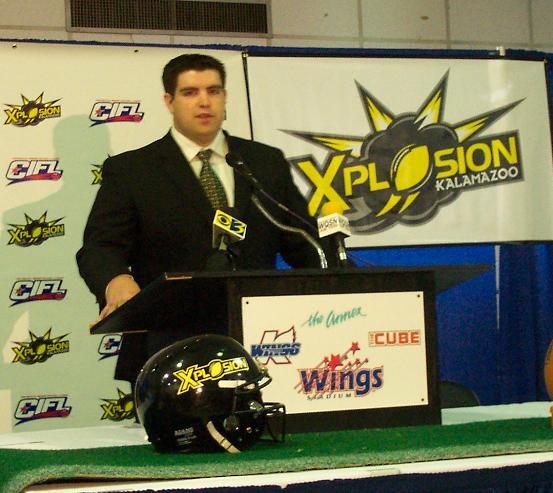 Bob Kubiak, who coached the league's Battle Creek Crunch franchise last season, has been hired as head coach and general manager of the Xplosion. Kubiak's record with the Crunch last season was 4-6, but the team still managed to land one of the league's four playoff spots. The Crunch was defeated in the first round, however. They lost to the eventual GLIFL champion, the Port Huron Pirates, who finished the season with a perfect 12-0 record.
The team will conduct its first open player tryout at their indoor practice facility, Triple Threat Sports in Battle Creek, on November 19. Other tryouts will follow. "We're going to run four regional combines throughout the state (of Michigan) at later dates," said co-owner Mike Johnson. Team offices will also be located at Triple Threat Sports.
During the press conference, the team also announced that it has already signed its first player for the 2007 season. He is former Western Michigan University linebacker Bryan Lape, who was the Broncos defensive and team MVP in 2001. Lape's last season at Western Michigan was in 2002.
There will be a total of six home games played at Wings Stadium this season, all of them on Saturday nights. The CIFL season begins on March 24, 2007 and the first home game for the Xplosion will be on April 14. The first home game will be against another expansion franchise, a team from Chicago that has yet to be named. There are three home games scheduled in April (14, 21, 28), two games in May (5, 26) and the final home game is on June 2.
The Xplosion will share Wings Stadium with its longtime tenant, the Kalamazoo Wings of the United Hockey League. The K-Wings finished a very successful season earlier this year, winning the UHL Colonial Cup championship. The date of the Xplosion's first home game occurs after the K-Wings have finished their regular season schedule.
The complete Kalamazoo 12-game schedule and opponents will be posted tomorrow on the team's official web site, www.kzooxplosion.com. You can also visit the new official league web site at www.continentalindoorfootball.com.