New Book Takes Readers Inside College Football
by Randy Snow
Originally posted on AmericanChronicle.com, Tuesday, November 6, 2007
Lansing, Michigan author Ted Kluck's third book, Game Time: Inside College Football, is a collection of original stories on a variety of college football subjects and individuals. Collectively, they paint an interesting picture of what goes on behind the scenes in the world of college football.

These are stories you won't find anywhere else. Why? Because the media typically tends to focus only on the big names, the big schools, the big conferences and, most regrettably, the big scandals.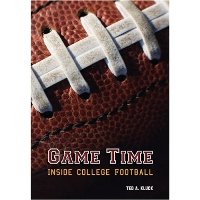 Game Time is a refreshing look at the people who give their all to the game on and off the field, often times in total obscurity. But that doesn't mean that their stories are not worth telling, or reading about.
The book covers many facets of college football that you don't always get to hear about. From player agents, to college recruiters, to the people who grade each player prior to the NFL Draft, Game Time gives readers a unique glimpse into the behind-the-scenes workings of college football.

Chapters include;

Phil Steele, the publisher of the annual Phil Steele's College Football Preview.

James Bell, head coach at Taylor University in the NAIA, a black coach at a predominantly white Christian college.

J. Harrison Henderson III, a veteran sports agent.

Mark Hagan, an assistant coach and recruiter at Purdue University.

Todd McShay, ESPN NFL Draft Analyst.

There is also the story of Ronald Johnson, a high school football player from Muskegon, Michigan, who made an elaborate production out of announcing which college he had decided to attend, and had it broadcast live on the Internet.

There are also interviews with college players like;

Cullen Finnerty, a quarterback at Division II Grand Valley State University in Allendale, Michigan. Finnerty compiled a record of 52-4 as a four year starter at the school and won three national championships, but was not invited to participate in the NFL Combine.

Charlie "Mad Dog" Thornhill from Michigan State University and his recollections of playing in "The Game of the Century," the 1966 MSU-Notre Dame game that ended in a 10-10 tie.
Danny Wuerffel, the 1996 Heisman Trophy winner from the University of Florida, about his life away from college football working with under privileged kids in New Orleans.

Herb Haygood, who played college football at Michigan State, was drafted by the Denver Broncos in the 2002 NFL Draft and was most recently an assistant coach at Division III Olivet College in Olivet, Michigan.

Dan Bazuin, an All-American defensive end from Central Michigan University.

Max Pollock, a walk-on linebacker at the University of Michigan.

Rutgers fullback Brian Leonard and his head coach, Greg Schiano.

There are also interviews with several players as they prepared to participate in the Senior Bowl College All-Star Game as well as an inside look at what goes on at a Pro Day, when NFL scouts travel to around to colleges and evaluate players.

The book has a decidedly Midwestern feel to it, since many of the stories take place in and around the author's home state of Michigan. But these stories are a reflection of what goes on all over the country, at all levels of college football.

Game Time concludes following the 2007 NFL Draft. How did the college football players featured in the book fare in the draft? Which ones were selected and by which team? The answers might surprise you.

For the majority of college football players, their playing careers are over once they leave college. And for every player that makes it to the NFL, there are hundreds of others each year who don't. However, for college football scouts, recruiters, agents and analysts, the college football season never ends. They simply turn their attention to the next crop of players and begin the cycle all over again.

Kluck's previous books include, Facing Tyson: 15 Fighters, 15 Stories and Paper Tiger: One Athlete's Journey to the Underbelly of Pro Football.

Links

www.tedkluck.com

Paper Tiger Review