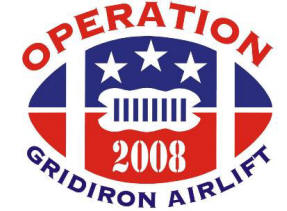 Operation Gridiron Airlift
is Under Way
OGA08-PR-1
Posted: Friday, January 25, 2008
In an effort to show support for our men and women serving overseas, Operation Gridiron Airlift 2008 kicked off in December 2007. The goal of the first year event is to collect footballs that will be shipped to our troops who are serving far from home.
Three professional football leagues have already stepped forward and made donations. The leagues donated official league footballs bearing their respective league logos. Some footballs also contained individual team logos. The three leagues are the Arena Football League, the Intense Football League and the Continental Indoor Football League.
After the footballs have been collected, they will be turned over to the Battle Creek Air National Guard Base in Battle Creek, Michigan for shipment overseas.
Operation Gridiron Airlift is being organized by Randy Snow of Kalamazoo, Michigan. He spent 21 years serving in the Michigan Air National Guard and retired from the Battle Creek ANG Base in 2002. Since 2003, he has been covering Indoor and Arena football for various web sites. He also covers the new All American Football League. His work can be found on ArenaFan.com, OurSportsCentral.com and AmericanChronicle.com.
For more information, or to make a donation, contact Randy Snow at RandySnow22@yahoo.com.