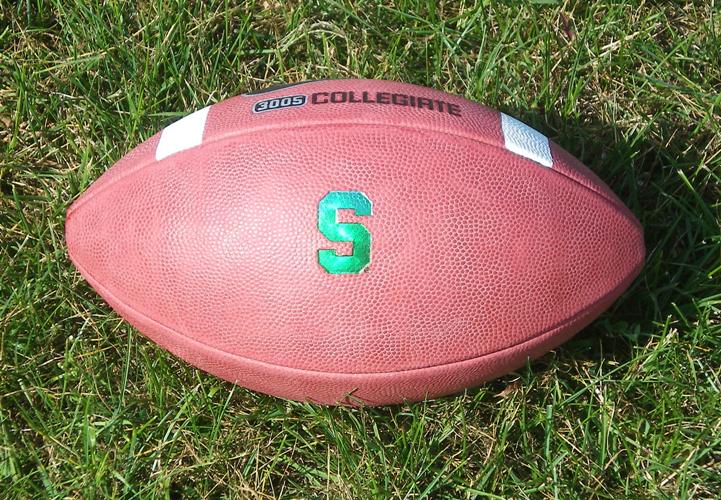 Michigan State University
Footballs Headed to the Troops
Press Release: OGA09-PR-2
Posted: Wednesday, September 16, 2009
Michigan State University becomes the second team from the Big Ten Conference to make a donation of footballs to Operation Gridiron Airlift. MSU joins Purdue University in showing its support for our service men and women serving around the world. Thank you, MSU!
The list of contributors to Operation Gridiron Airlift continues to grow and includes the following;
The National Football League / Detroit Lions

The Arena Football League / Grand Rapids Rampage

The Continental Indoor Football League / Kalamazoo Xplosion

The Intense Football League / San Angelo Stampede Express

The United States Air Force Academy (Mountain West Conference)

Western Michigan University (Mid-American Conference)

Central Michigan University (Mid-American Conference)

Michigan State University (Big Ten Conference)

Purdue University (Big Ten Conference)

Arizona State University (Pac-10 Conference)

FlexFab LLC of Hastings, Michigan

Private donations
About Operation Gridiron Airlift
For our troops serving overseas, the simplest gifts from home are always a welcome sight and very much appreciated. And what is more American than a football? Sometimes, just tossing a football around or organizing a friendly game while deployed overseas can be a welcome diversion, bringing a bit of home to a foreign location. That's why Operation Gridiron Airlift is collecting new and used footballs, that are in good condition, and sending them to our troops serving overseas.
The organizer of Operation Gridiron Airlift is retired Master Sergeant Randy Snow of Kalamazoo, Michigan. He spent 21 years serving in the Michigan Air National Guard and retired as a member of the Battle Creek ANG Base in 2002. Since 2003, he has covered the Arena Football League, arenafootball2, the Continental Indoor Football League, United Indoor Football and the Indoor Football League. He has also covered the All American Football League and the Canadian Football League. His work can be found on ArenaFan.com, OurSportsCentral.com and AmericanChronicle.com.
For more information, or to make a donation, contact Randy at RandySnow22@yahoo.com.