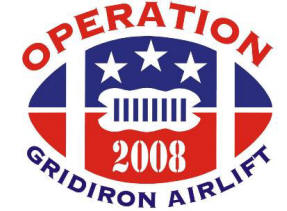 Football Fans Will Get Their Chance to Donate at Two CIFL Games
OGA08-PR-3
Posted: Friday, May 9, 2008
May is Military Appreciation Month, so this is the perfect time to show your support for our troops serving overseas.
Operation Gridiron Airlift is teaming up with the Kalamazoo Xplosion of the Continental Indoor Football League to collect footballs that will be sent to our troops serving overseas.
Football fans will have two chances to donate footballs at two upcoming football games in Kalamazoo, Michigan. The first is on Saturday night, May 31 when the Xplosion will host the Miami Valley Silverbacks from Troy, Ohio. The second will be on Saturday night, June 7, when the Xplosion host the Fort Wayne Freedom from Fort Wayne, Indiana. Both games will begin at 7:30 PM and will be played at Wings Stadium in Kalamazoo, Michigan. Just bring your new or used footballs to either game and give them to an Operation Gridiron Airlift representative outside of Wings Stadium prior to the game.
Participants that have already contributed to Operation Gridiron Airlift include;
Please show your support for our troop by donating a new or good-condition used football at the next two Kalamazoo Xplosion home games.
About Operation Gridiron Airlift
For our troops serving overseas, the simplest gifts from home are always a welcome sight and very much appreciated. And what is more American than a football? Sometimes, just tossing a football around or organizing a friendly game while stationed or deployed overseas can be a welcome diversion, bringing a bit of home to a foreign location. That's why Operation Gridiron Airlift is collecting new and used footballs, that are in good condition, and sending them to our troops overseas.
The organizer of Operation Gridiron Airlift is Randy Snow of Kalamazoo, Michigan. He spent 21 years serving in the Michigan Air National Guard and retired as a member of the Battle Creek ANG Base in 2002. Since 2003, he has covered the Arena Football League, arenafootball2, the Continental Indoor Football League and United Indoor Football. He has also covered the All American Football League and the Canadian Football League. His work can be found on ArenaFan.com, OurSportsCentral.com and AmericanChronicle.com.
For more information, you can contact Randy at RandySnow22@yahoo.com.
Previous Press Releases
United States Air Force Academy Donates to the Troops (April 18, 2008)
Operation Gridiron Airlift is Underway (January 25, 2008)