100 Things Lions Fans Should Know & Do Before They Die
by Randy Snow
Originally posted on Yahoo! Voices, Friday, November 29, 2013
If you are a fan of the Detroit Lions, then this book is for you. It has many player profiles and interesting stories about the team's history dating back to 1930 when it was located in Ohio and known as the Portsmouth Spartans. Published in 2012, the book was written by Paula Pasche, a reporter for the Oakland Press, who has covered the Lions for many years.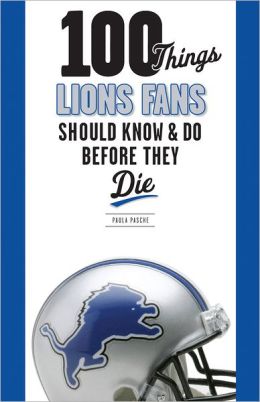 The book contains short profiles and stories about current team players like quarterback Matthew Stafford, wide receiver Calvin Johnson and defensive tackle Ndamukong Suh, but it also exposes fans to Lions players from long ago, such as Hall of Fame quarterbacks Dutch Clark from the 1930s and Bobby Layne from the 1950s. Other Lions Hall of Fame players from the distant past included in the book are linebacker Joe Schmidt, guard/tackle Lou Creekmur, defensive back Yale Lary, cornerback Dick LeBeau and cornerback Dick "Night Train" Lane. More recent Hall of Famers include running back Barry Sanders, wide receiver Herman Moore, cornerback Lem Barney and tight end Charlie Sanders.
Longtime fans of the Lions will also remember players like Greg Landry, Billy Sims, Chris Spielman, Eddie Murray, Mel Gray, Gary Danielson, Robert Porcher, Johnnie Morton, Lomas Brown and Jason Hanson, who are all featured in the book. And who can forget former Lions defensive tackle Alex Karras, who went on to play Mongo in the classic comedy movie, "Blazing Saddles."
Many of the greatest players in Lions history are included, as well as some of the not so great, like quarterback Joey Harrington, wide receiver Charles Rogers, Heisman winning quarterback Andre Ware and, of course, everyone's "favorite" general manager, Matt Millen.
There are tragic stories in the book as well, like that of wide receiver Chuck Hughes, who died during a game against the Chicago Bears in 1971 at the age of 28. There was also Mike Utley, a guard who was paralyzed during a game against the Los Angeles Rams in 1991, defensive lineman Reggie Rogers, who was involved in a car crash that killed three teenagers in 1988 and Erik Andolsek, a promising guard who was killed by an out-of-control truck while working in his own front yard in the summer of 1992.
On a happier note, there is the story of George Plimpton, a writer who spent training camp with the team and wrote about his experience in the classic 1965 book, "Paper Lion." There was Barry Sanders' 2,000-yard rushing season in 1997 and the 1980 song "Another One Bites the Dust," performed by Lions defensive back, Jimmy "Spiderman" Allen.
The Lions were part of NFL history with their 0-16 season in 2008 and for being on the wrong end of Tom Dempsey's record breaking 63-yard field goal in 1970.
To my disappointment, there were a couple of players from the 1970s that I remember who were left out of the book. Kick/punt returner Eddie Payton, who played in Detroit for just eight games in 1977. In the final game of the season against the Minnesota Vikings at the Silverdome, Payton had an 87-yard punt return for a touchdown and a 98-yard kickoff return for a touchdown. He was the older brother of the great Chicago Bears running back, Walter Payton. There was also Joe Reed, the singing quarterback. Reed came off the bench in 1975 after Gary Danielson and Bill Munson were both injured in a game against the Houston Oilers and finished the season as the starter. I remember seeing an album of gospel songs by Reed being sold in the souvenir stands at the Silverdome.
This book is just one of a series of books with the same title for fans of various teams throughout the NFL, NHL, NBA and MLB as well as major college football teams. There is also a book for NASCAR fans and even ones for fans of the Beatles and Elvis!