Upper Deck AFL card set in stores now
by Randy Snow
Originally Posted on Rampagefootball.com, Wednesday, May 11, 2005
The first Arena Football League trading card set is now in stores. In addition to the basic 90-card set, Upper Deck has also randomly inserted over 100 special cards into the 8-card packs such as jersey cards, autographed cards, dance team cards and ArenaBowl logo cards.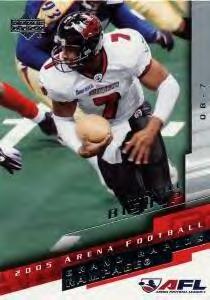 Other cards titled League Luminaries feature team owners John Elway (Colorado Crush), Mike Ditka (Chicago Rush) and Tim McGraw (Nashville Kats). One owner who is noticeably absent from the set is Philadelphia Soul co-owner Jon Bon Jovi. Former AFL quarterbacks Kurt Warner (Iowa Barnstormers), Tommy Maddox (New Jersey Red Dogs) and Adrian McPherson (Indiana Firebirds) are also featured.

Current Rampage players in the set include QB Michael Bishop, WR/DB Josh Bush and WR/DB Anthony Hines. OS Chris Jackson, who was traded to the Georgia Force in March, is also featured as a Rampage card.

Two current Rampage players also appear on other team cards, QB Chad Salisbury (Columbus Destroyers) and WR/LB Dialio Burks (Georgia Force).

Former Rampage players can be found throughout the basic set and special cards as well. FB/LB Chris Ryan and WR/DB Joseph Todd (Philadelphia Soul), QB Clint Dolezel and WR/LB Ricky Ross (Las Vegas Gladiators), WR/DB Willis Marshall (Colorado Crush) and QB Todd Hammel (Chicago Rush) all have cards.

Former Rampage and Soul head coach Michael Trigg makes a cameo appearance in the background of the card featuring Philadelphia Soul QB Tony Graziani. Another Soul player, WR/DB Takuta Furutani is even shown in the uniform of the af2 Louisville Fire, where he played in 2004.

There are a couple of notable mistakes in the set, however. WR/DB Jerome Riley, who plays for the Los Angeles Avengers, is incorrectly labeled as playing for the Rampage while the Anthony Hines card says he played last season with the "Arizona" Firebirds.

The silver player and team names on the front of the cards are a bit hard to read, but overall, the set has a high quality look to it that fans and card collectors will appreciate.