BISHOP GOES FOR ANOTHER CROWN UP NORTH
by Randy Snow
Originally posted on Rampagefootball.com, Monday, July 18, 2005
After setting a new AFL single-game rushing record in Week Two (100 yards on six carries) and a new league single-season rushing record (459 yards), Rampage quarterback Michael Bishop returned to Canada and is once again the backup quarterback of the Toronto Argonauts of the Canadian Football League.

This is Bishopís fourth season in Toronto and for the last two years, Bishop has played back-to-back seasons with Toronto in the CFL as well as with Grand Rapids in the Arena league. As soon as one season ended, he simply changed uniforms and went right back to work with little or no time off. But has the last two years taken a toll on the 29-year old former Heisman Trophy runner-up?

ďItís not getting old,Ē said Bishop, ďIím having a lot of fun because Iím doing what I love to do and thatís play football regardless of whether its here (in Canada) or in the AFL. Iím out there on the field building friendships, throwing touchdowns, running touchdowns and having fun. Outside of my family, each football team that I play on is another family away from home. I kind of take that as a positive.Ē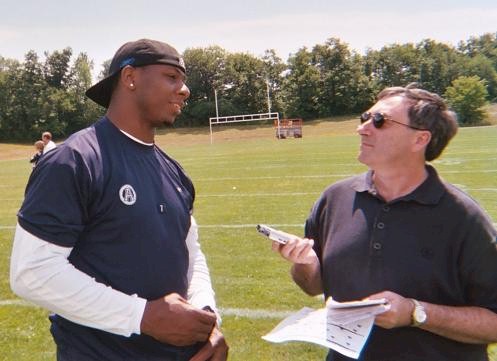 Last year, Bishop went 5-3-1 for the Argos when starting quarterback Damon Allen was injured. Toronto went on to win the Grey Cup last season with a 27-19 victory over the British Columbia Lions on November 21.

So far this season in Canada, Bishop has not seen any action in the four regular season games the Argos have played. Bishop did play in one of the Torontoís two pre-season games. He missed the second pre-season game because he was participating in the ArenaBattle Skills Competition prior to ArenaBowl XIX in Las Vegas on June 12. He then stayed for the game. It was the first time that he had ever watched an Arena game from the stands.

ďFrom sitting in the stands watching the game, you get a totally different aspect. Sometimes you learn more from sitting in the stands that you do in the film room,Ē said Bishop.

While in Las Vegas, Bishop also missed out on getting his Grey Cup ring when they were handed out to the rest of the players during a team party. But donít worry; he got his ring when he returned to Toronto after the ArenaBowl.

Through the first four regular season games, Bishop has not seen any playing time. However, he is comfortable with the offense and he feels ready to step in and contribute whenever his number is called.

ďI feel like I havenít missed a beat,Ē Bishop said. ďItís the same offense theyíve been running since Iíve been here. Itís just a matter of me retaining what Iíve learned in the past. Any time that Iím able to step in, Iím definitely going in to try and win the game and keep something positive going.Ē

This is the final year that Bishop is under contract with the Toronto team and he hopes to win another championship in Canada. Eventually, heíd also like to accomplish the same thing in the AFL.
Photo: This is me interviewing Michael Bishop at the Toronto Argonauts training facility At the University of Mississauga just outside of Toronto