Book Report: Boots on the Ground By Dusk
by Randy Snow
Originally posted on AmericanChronicle.com, Saturday, June 13, 2009
It has been over five years since Pat Tillman was killed in Afghanistan while serving as an Army Ranger. It seems like only yesterday that his picture was shown on every news show on television and the reports of his death were made public, but that was on April 22, 2004.

In her 2008 book, Boots on the Ground by Dusk, Tillman's mother, Mary, recounts what the family has gone though in the years following his death. The book is co-authored by Narda Zacchino, an editor for the San Francisco Chronicle newspaper.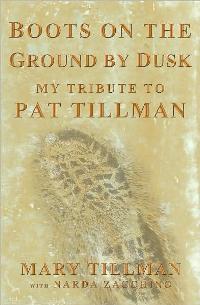 Mrs. Tillman tells many stories of what Pat and his brother Kevin were like when they were very young, which gives a clue as to what they would be like later in life. They were very close as brothers and looked out for each other all the time.

The Tillman family has a long history of men serving in the military. Pat's grandfather, Hank Tillman, was in the Navy during World War II along with two of Pat's great uncles. All three men were stationed at Pearl Harbor during the Japanese attack on December 7, 1941. They all managed to survive. Mary Tillman's own father, as well as her brother Rich, served in the Marine Corps.

The story of what happen in Afghanistan is told and retold several times throughout the book. Each time a new piece of information is added or deleted and the story becomes more confusing and complex. Accusations of a cover-up by the Army and the government are common throughout the book. However, the basic story of what happened on April 22, 2004, remains the same…

Kevin and Pat Tillman were on a mission to the town of Manah looking for Taliban fighters and were part of a convoy in the Khost region of Afghanistan near the Pakistan border. One of the HUMVEE´s in the convoy broke down and needed to be returned to the forward operating base in Khost for repairs. The convoy was instructed to split into two groups, something they protested against, but eventually did. Kevin went with the group that attempted to return the disabled HUMVEE. It had been loaded onto a flat bed truck that was owned and operated by a local man. Pat's part of the convoy continued on with the mission.

It wasn't long before Kevin's group found the road impassible, so they turned around and began to head down the same road Pat's group was on. Kevin's group was ambushed and came under enemy fire so they stopped and took cover. Meanwhile, Pat's group had made a wrong turn along the way. They had turned around and were heading back down the same road that Kevin's group was on. Pat's group heard the attack going on and stopped to investigate; unaware that it was Kevin's group that was under attack. That's when the confusion began and two groups wound up shooting towards each other. Pat Tillman was shot three times in the forehead and killed.

At the time of Pat's memorial service, the Army had been reporting that Tillman was killed by enemy fire, but a few weeks later, it was announced that he had actually been killed by friendly fire. An Army colonel came to the Tillman home over Memorial Day weekend 2004 to give the family an official briefing on what had happened in Afghanistan. According to Mary Tillman, there were many inconsistencies in the briefing and the family was suspicious right from the start. About two weeks later, the same colonel gave the family a second briefing at Fort Lewis in Seattle and many of the facts from the first briefing had been changed, causing even more confusion and mistrust by the Tillman family.

The book includes statements taken from various official Army reports that the family received including eyewitness accounts from the soldiers who were there the day Tillman was killed.

The book also tells how Mary found out that Pat had been killed during a phone call with Pat's wife, Marie, just minutes before a uniformed soldier arrived at Mary's house to give her the official news in person. Kevin accompanied Pat's body back to the United States.
Mary Tillman also recounts the night that she and the rest of the family viewed Pat's body in a San Francisco funeral home on April 29. His body had just arrived home from overseas and was cremated the following day. She also recounts the public memorial service held to honor Pat, which took place at the Municipal Rose Garden in San Jose, the same place where Pat and Kevin´s high school graduation ceremonies had been held. The public memorial service for Tillman was broadcast on ESPN and took place on May 3, 2004, the day before Pat and Marie would have celebrated their second wedding anniversary.

The memorial service featured many celebrity speakers. Among them was radio and TV host Jim Rome, the wife of Governor Arnold Schwarzenegger and California First Lady, Maria Shriver, Arizona Senator John McCain, who was a Vietnam War POW, quarterback Jake Plummer, Pat's former college and NFL teammate and head coach Dave McGinnis of the NFL Arizona Cardinals. Also speaking that day was Steve White, a Navy Seal who knew Pat and Kevin while they were serving in Iraq,

As I read excerpts from some of the wonderful speeches and tributes given that day, it occurred to me that ESPN ought to consider replaying their broadcast of the Tillman memorial service on holidays such as Memorial Day or Veteran's Day to remind people that, while sports are great, there are more important things in life. That is the message that Pat Tillman represents. At the time of the memorial, it had not been made public that Pat was killed by friendly fire, so some of the memorial contradicts what we know today. A disclaimer could be aired along with the memorial, but the stories that were told by the people who knew Pat the best were so touching that they should be made available to his fans.

There were two other memorials for Tillman that also took place, this time at Sun Devil Stadium in Tempe, Arizona. A private memorial was held on May 7 and a public one the following day on May 8.

On November 6, 2004, which would have been Pat Tillman's 28th birthday, his ashes were scattered at sea off the coast of Santa Cruz, California near the Crow's Point. It is the place where Pat proposed to Marie.

The book bounces back and forth between being a touching and often-humorous retelling of Pat's life and his football career, to the ordeal that the family has gone through in dealing with the Army since his death. The book contains information that has never been made public before.

Mary and Kevin Tillman testified before a congressional committee on April 24, 2007, three years after Pat was killed. They revealed many contradictions told to them by military officials and accused the Army and the government of covering up some of the facts surrounding Pat's death. At the time that the book was published in 2008, there had been six official investigations and two congressional hearings into Tillman's death.

If you want to get a better understanding of who Pat Tillman was in life, what took place on the day he died in Afghanistan and what has transpired since, then you will want to read this book.