Former WMU safety Carlos Smith playing in UIF
By Randy Snow
Original to theworldoffootball.com, Monday, August 1, 2005
Former Western Michigan Broncos strong safety Carlos Smith had been out of football for a while, but he still had the desire to play. So much so that he turned down a job offer with a major pharmaceutical company in the Detroit area for one more shot at playing professional football. Smith is currently playing linebacker/fullback for the Fort Wayne Freedom of United Indoor Football.
After graduating from Western Michigan in 2002 with a degree in Marketing, Smith had a couple of workouts with the Detroit Lions and also tried out for a couple of teams from the Canadian Football League, but things just didn't work out. So when his agent called to see if he was interested in playing for an indoor football team, he decided his career could wait.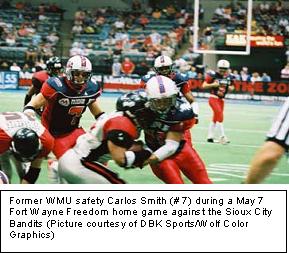 "My agent called me and asked if I wanted to come take a look at it," said Smith. "I talked to Coach Land and he brought me down (to Fort Wayne). I still had that itch to play. I figured I have the rest of my life to work."
Freedom head coach Matt Land has no regrets about bringing Smith to Fort Wayne, either. "He's a good size kid," said Land. "He can run, he can tackle, and he's smart. He fits right in with what we do on defense."
The Freedom has been around since 2003, but the UIF is a new spring indoor football league this year made up of 11 teams from nine states. From 2003-04, the Freedom were members of another spring indoor league, the National Indoor Football League. Then last fall, nine NIFL teams, including Fort Wayne, decided to break away and form their own league. Two other teams defected from arenafootball2, the developmental league of the Arena Football League, to join new league. Other cities fielding UIF teams include Sioux Falls, South Dakota; Peoria, Illinois; Tupelo, Mississippi; Evansville, Indiana; Sioux City, Iowa; Omaha, Nebraska; Wheeling, West Virginia; Huntsville, Alabama; Rapid City, South Dakota and Lexington, Kentucky.
The rules of UIF are similar to those of the Arena Football League, but UIF is not affiliated with the AFL. Both leagues play eight men to a side and several players play both offense and defense during the game. But there is one major difference. There are no end zone rebound nets in UIF. The rebound nets are patented exclusively by the AFL. Instead, UIF uses goal posts that are suspended from the ceiling of the arena.
UIF has no television contract and players travel by bus to all their away games. Many players maintain part-time jobs during the season since player salaries are minimal. The team does, however, provide housing for its players during the season.
Smith played for WMU from 1998-2000, was injured in 2001, and finished his college career in 2002. Some of his Broncos teammates from that era also went on to play professionally. Quarterback Jeff Welsh and wide receiver Josh Bush both went on to play for the Grand Rapids Rampage of the Arena Football League, and defensive end Jason Babin was a first round draft pick in the NFL and is now with the Houston Texans.
"Obviously, if I can use this as a springboard to something else, then so be it. If not, then it was a nice opportunity," said Smith, who plans to continue to try out for CFL, NFL and even Arena teams when the UIF season is over.
The UIF season began in March and will conclude in August with the league championship game. The Freedom play their home games in the Allen County War Memorial Coliseum, the same place where the UHL's Fort Wayne Komets play hockey. In 2004, the Freedom led the NIFL in attendance.
The Freedom were undefeated through the first 10 games this season and finished the regular season with a 14-2 record. They had secured home field advantage throughout the playoffs including the chance to host the UIF championship game in Fort Wayne. However, the Freedom was eliminated in the first round of the playoffs on July 29 when they were beaten by the Tennessee Valley Raptors 57-22.