Cell Phones and Football
by Randy Snow
Original to www.theworldoffootball.com, Friday, March 27, 2020
Until recently, I had a flip phone and I was very happy with it. I could make and receive calls from pretty much anywhere in the world. After all, isnít that the whole purpose of a phone? From the primordial days of my youth, when there was a red, party-line telephone mounted on the wall of our house, I was able to make and receive phone calls to anyone, anywhere. (With my parentís permission, of course)
But now, we have been bamboozled into thinking that a flip phone is just not good enough. Today we are told that we must have instant access to maps, directions, email, social media, videos, a camera and the entire Internet, right in the palm of our hand.
I was able to avoid this technological pariah for many years, but recently, I too have been forced to succumb to the overwhelming onslaught of this diabolical technology. And what does this technology ask you for in return? Oh, not much, just your GPS location, your credit card number, your passwords, your birth date, your social security number, your motherís maiden name, your blood type, your shoe size and all of your family pictures. And it is all stored in one convenient location known as a smartphone.
So, what caused me to change my mind after all these years of distain for a technology that I view as a disease on society bent on enslaving the masses? It was my love of football.
You see, since the beginning of professional football, and college football for that matter, you have needed a small paper ticket to experience the majesty of a sport played by some of the greatest athletes in the world, in person. And once the game was over, that torn ticket stub was a memento of the great memories you had from that day.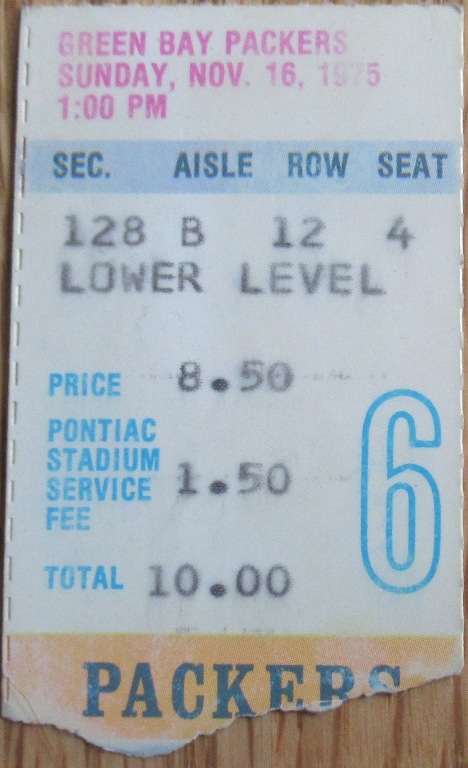 I still have the ticket stub from the very first NFL game I ever saw, the Green Bay Packers at the Detroit Lions, November 16, 1975. Lions won 13-10. I also have ticket stub from my first CFL game in Toronto between the Calgary Stampeders and the Toronto Argonauts. That was on August 25, 1994. Doug Flutie led the Stampeders to the 52-3 win at the Toronto SkyDome.
I also have three ticket stubs from USFL games I attended from 1983-1985. Two were Michigan Panthers home games and the other is an Arizona Outlaws home game.
I have the tickets from the 2017 Cotton Bowl that I attended between Wisconsin and Western Michigan also. The Badgers won 24-16. There are also tickets from my first Arena Football League game on June 24, 2000. The Tampa Bay Storm defeated the Grand Rapids Rampage 74-54 in Grand Rapids.
But today, there are very few paper tickets issued. Now, you have to have a smartphone in order to get into a sporting event.
Who can forget waiting in line at the local Ticketmaster counter the day tickets went on sale for a sporting event or a concert? Thatís how I got my tickets to see Paul McCartney in concert at the Palace of Auburn Hills on May 1, 2002.
In recent years, when I purchased tickets through Ticketmaster online, they would send me a PDF file containing the tickets. All I had to do was print them off and take them with me to the game. The person at the door would scan the bar code on my ďticketĒ and I was in. At least I still had the paper I printed off as a memento. But now, even that option has gone away.
Twice last year, I bought game tickets online and I had to send them to my sonís smartphone since he was going with me. Therefore, I have no ticket stub for the only Alliance of American Football game we ever attended last year at the Liberty Bowl between the Memphis Express and the San Diego Fleet.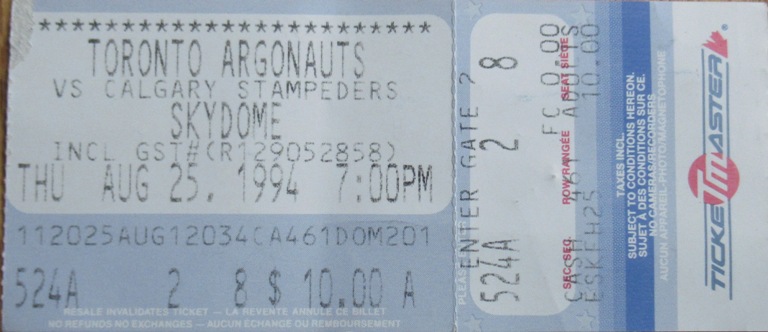 Was a smartphone required to watch Joe Namath win Super Bowl III? Or when Johnny Unitas quarterbacked the Baltimore Colts to the NFLís first overtime win in the 1958 championship game? No, of course not. A physical ticket was what you needed, and it was a good system.
But today, everything has changed and I am resigned to the fact that I must now, in the words of George Orwell, love Big Brother.
So, a few months ago, I broke down and got a smartphone, all in the name of football. The first thing I did was download the Ticketmaster app. Then I downloaded the NFL app, the CFL app and the XFL app. There was also the ESPN app, the iHeartRadio app and the Gas Buddy app. Man, there is an app for everything out there! Who knew?
The first football tickets I purchase after I got my new phone were tickets to an XFL game in St. Louis between the St. Louis BattleHawks and the Los Angeles Wildcats. They were downloaded to my smartphone and I was ready to go. Unfortunately, the XFL season was cancelled after five weeks due to the COVID-19 global pandemic. My game was scheduled for week seven. I am currently waiting for a refund on those tickets.
My point is this. Technology does not necessarily make things better. A ticket stub from 20 or 30 years ago is an irreplaceable and priceless souvenir that an entire generation of sports and concert goers will be missing out on. The dates of games and seat numbers where they sit will fade from their memories and eventually be lost to them forever.
While it may be easier and cheaper for a company like Ticketmaster to receive a payment electronically and then send out a collection of electrons through the Internet to a laptop or a smartphone in the form of a ticket, fans are missing out on an important part of their sports and concert going experience; the ticket stub.
For many of you, it is already too late. You have been seized by the warm glow and the empty promises of a better life through technology. The future is all that matters while the past gets left behind.
I say we return to a simpler time when we all had a flip phone in one hand and a football ticket in the other.