The Story of Ulysses "Crazy Legs" Curtis, A Pioneer in Pro Football's Racial Integration
by Randy Snow
Originally posted on Yahoo! Voices, Monday, November 25, 2013
I recently learned about the passing of a former player in the Canadian Football League, and I was intrigued by what I read. He played during a time when the number of African-Americans who were playing pro football was rare. Then I found that he was also buried not too far from where I live, so I felt that I had to go and find his grave. You may never have heard of Ulysses "Crazy Legs" Curtis before, but this is his story.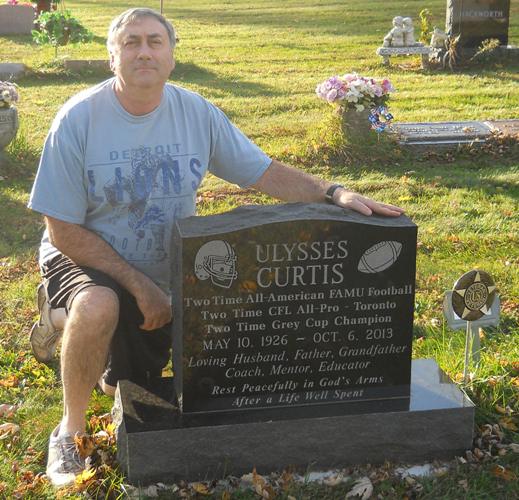 Curtis was a pioneer in integrating the game of football and he achieved greatness in the process. In his online obituary at MLive.com, I learned that he was born and raised in Albion, Michigan, a small town located between Battle Creek and Jackson off Interstate 94. He graduated from Albion High School in 1944 and then served in the U.S. Navy during World War II from 1944-1946. After that, his brother talked him into going to college at Florida A&M, a historically black college in the Southern Inter-Collegiate Athletic Conference (SIAC). He played running back on the football team and was a two-time All-American in 1948 and 1949. After college, he signed with the Toronto Argonauts of the CFL in 1950.
It was not unusual back in those days for American players to go up to Canada and play in the CFL. At the time, the pay between the CFL and the NFL was about the same. Sometimes it was even better north of the border.
The Argonauts identify Curtis as the first African-American to ever play for the CFL team and played for the Argonauts from 1950-1954. During his five-year playing career, he won two Grey Cup championships, which is the CFL equivalent of the Super Bowl. The first was in his rookie season of 1950 and the other was in 1952. The 1950 Grey Cup game has been nicknamed "The Mud Bowl" due to the terrible field conditions the game was played in.
According to the official Argonauts team website (www.argonauts.ca) Curtis is fourth in team rushing history with 3,712 yards on 529 attempts for a remarkable 7.0 yards per carry lifetime average. He also had 47 career touchdowns and 12, 100-yard games. His best rushing season was in 1952 when he ran for 994 yards on 127 carries and a 7.8 yard per carry average.
He was the first player in team history to ever top 200 yards rushing in a single game. Curtis ran for 208 yards on September 6, 1952 in a game against the Montreal Alouettes. That record stood until August 31, 1988 when Gill Fenerty ran for 215 yards in a game against the Calgary Stampeders.
Curtis got the nickname "Crazy Legs" because of his unique running style. He ran with his knees kicking up so high that sometimes he would knock the ball out of his own hands while running!
You may be more familiar with another, more famous football player with the same nickname, Elroy "Crazy Legs" Hirsch. Hirsch played for the Chicago Rockets of the All American Football Conference from 1946-1948, which was a rival league to the NFL in the late 1940's. But he is better known for playing with the NFL Los Angeles Rams from 1949-1957. He, too, had a unique running style that led to the nickname. Hirsch was inducted into the Pro Football Hall of Fame in Canton, Ohio in 1968.
After his playing career in the CFL was over, Curtis remained in Toronto and became a school teacher. He taught for 30 years in the Toronto school system teaching history, geography, physical education and he was also a guidance counselor. He retired in 1990.
In 2005, Curtis was named an All-Time Argo by the team. There are currently only 22 former players who have been so honored.
He was still living in Toronto when he passed away on October 6, 2013 at the age of 87. But Albion was still home and so he was buried there in the Riverside Cemetery on October 13.
Finding His Grave
Knowing that he was just down the road from where I live, I had to make a trip to visit the final resting place of "Crazy Legs" Curtis. Traveling east down I-94 from Kalamazoo, my son and I took Exit 121 and headed south into Albion. Riverside Cemetery is located on South Superior Street on the south end of town.
The first thing that I noticed as we entered the cemetery was the historical marker by the front gate. The marker tells that the first burial at the cemetery was in 1837, the same year that Michigan became a state.
We found Curtis' grave in Section 122. It had only been about a month since his burial, so there was no headstone yet. There was only a small, temporary plastic marker about the size of a 3x5 index card and some flowers from his funeral. I plan to make a return trip back to the cemetery next spring when there should be a permanent headstone in place. (Actually, the grave picture was taken in October 2014 and later added to this article)
Men like Ulysses Curtis should be remembered for their contributions to integration as well as for their athletic accomplishments on the field. Students who went to school in Toronto during the 60s, 70s, and 80s will undoubtedly remember him for a completely different, and perhaps even greater, reason.
Other Graves Visited
Over the past several years I have traveled throughout the Midwest and the East Coast visiting the graves of famous figures in football history. I have been to the graves of Notre Dame's George Gipp (the Gipper) in Calumet, Michigan, legendary Notre Dame head coach Knute Rockne in South Bend, Indiana, Green Bay Packers head coach Vince Lombardi in Middletown, New Jersey and Walter Camp, the Father of American Football, in New Haven, Connecticut.