The Battle Creek Crunch started out the season 0-3, but after defeating the traveling New York/New Jersey Revolution 51-22 on Saturday night, they now find themselves in third place in the Great Lakes Indoor Football League standings.

Winners of three of their last four games, Battle Creek (3-4) looked sharp right from their first play from scrimmage, which was a 15-yard touchdown pass from quarterback Tim Kubiak to a wide-open Eric Gardner in the end zone. The extra point was blocked but Crunch kicker Brad Selent picked up the ball and came up just short as he tried to run it into the end zone. The Crunch led 6-0.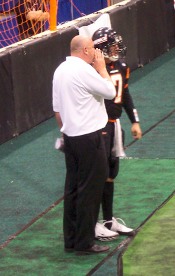 In the second quarter, Crunch wide receiver Brian Dolph scored his first GLIFL touchdown on a 32-yard option pass by Gardner. Battle Creek added a 22-yard field goal and another Gardner touchdown as they went on to score 17 unanswered points and take a 23-0 lead at the half. It was the first, first half shutout in league history.
The Crunch opened up a 30-0 lead in the third quarter before the Revolution (0-7) even got on the scoreboard and had a 37-16 lead at the end of the third quarter.
For the second week in a row, Crunch WR/DB Herb Haygood returned an interception for a touchdown in the fourth quarter, extending the Crunch lead to 44-16.
"It's definitely better to be good at the end of the year than it is to be good at the beginning of the year," said Crunch head coach Bob Kubiak. "We've eliminated a lot of the turnovers on offense which plagued us early in the season. We've still got a ways to go. I don't think were an upper echelon team yet, but I think we're getting there. I think we can be competitive with everybody now."
For the Crunch, Brian Dolph had five catches for 63 yards and two touchdowns. Eric Gardner had four rushes for four yards and three catches for 71 yards and three touchdowns. He also threw a touchdown pass.
Crunch quarterback Tim Kubiak was 11 of 17 passing for 130 yards and four touchdowns. The Crunch had 188 yards of total offense in the game while the Revolution had 110 yards.
Freelance writer Ted Kluck, who is playing for the Crunch and writing about his experiences for ESPN.com, saw an extended amount of playing time this week. When the season started, Kluck was the team's backup long snapper on extra points and field goals, but he is now getting a taste of some other positions as well. "I loved playing defense and (being in on) kickoffs," said Kluck. "Hopefully they'll let me keep doing it. It was a dream come true, seriously. It really felt good. It was a lot of fun."
The Battle Creek Crunch also introduced their new mascot this week before the game. "Crunchy" is a tiger and wears a number 78 jersey.
Revolution Notes:
The New York/New Jersey Revolution is a traveling team this season, playing all 10 of their games on the road. So far, they have yet to win a game.
Kevin Hanratty, who plays quarterback and is also the director of player personnel for the Revolution, said it's been a tough season so far. "It takes a toll on you physically and mentally, but that's no excuse. We still have to plow through it, its just football and there's no excuses. We lost tonight to a very talented team, the Crunch played very well and we just have to look at the game film and learn from that.
"The players have been incredible. They have just had a great attitude towards the traveling. Everybody who came out to workout for the team at the beginning of the season knew going into this that we were going to be a travel team. Everyone has been so cooperative, they've been very helpful and I really feel that one of the great aspects of this team is that they're really a family. These guys have not complained, they have gone to practice when we asked them, they go to workouts, we did a charity event, a cancer walk and they come prepared to play every game. We haven't put it all together yet (on the field) but these guys come out every week and try their hardest. That's what makes us proud as an organization."
The team is currently finalizing a deal with an arena and hopes to make an announcement before the end of the season that they have secured a home venue for next season.
The Revolution travel to Ohio next week to take on the Marion Mayhem (3-4).
(Picture: Crunch head coach Bob Kubiak calls a play for his brother, QB Tim Kubiak)