The Grave of Jay Berwanger
by Randy Snow
Original to www.theworldoffootball.com, Thursday, September 29, 2022
The first winner of the Heisman Trophy did not actually win the Heisman at all. In 1935, the award was known as the Downtown Athletic Club Trophy, and was renamed the Heisman Memorial Trophy in 1936 after John Heisman's death. (This is Gridiron Grave visit #39)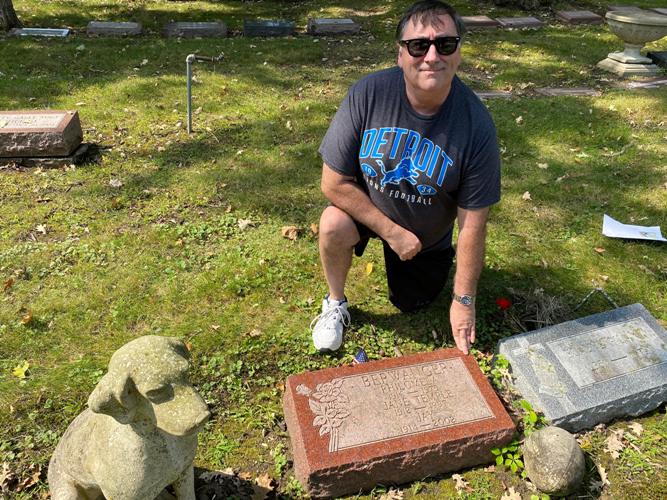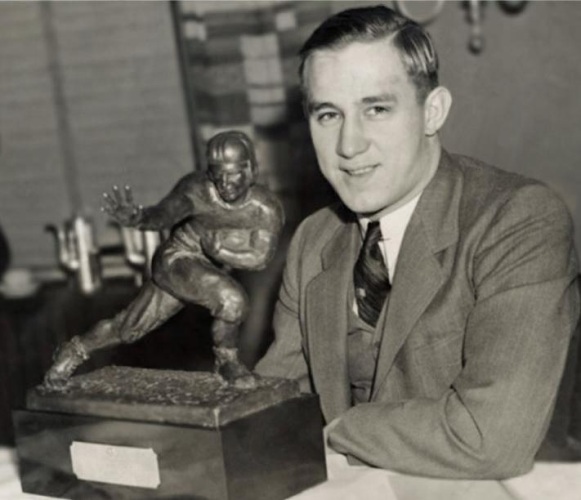 Raised in Iowa, Jay Berwanger excelled at wrestling, track and football in high school. After he graduated, Iowa, Michigan, Minnesota and Purdue all tried to recruit him, but he chose to attend the University of Chicago.
Berwanger was known for his versatility on the football field. He called plays, ran, passed, punted, blocked, tackled, kicked off, kicked extra points and also returned punts and kickoffs. He was known as the "Genius of the Gridiron," "The One-Man Team," "The Flying Dutchman" (even though he was of German descent) and "The Man in the Iron Mask" because he wore a special face guard to protect his nose, which had been broken twice.
Berwanger is the only Heisman recipient who can say that he was tackled by a future president of the United States. During a 1934 game between Chicago and Michigan, he was tackled by Gerald Ford. Ford recalled, "When I tackled Jay in the second quarter, I ended up with a bloody cut and I still have the scar to prove it."
Accurate game stats are hard to come by during the time that Berwanger played but, according to his College Football Hall of Fame page, they estimate that during his college career, he had 49 rushing attempts for 1,839 yards, averaging 4.2 yards per carry. He scored 22 touchdowns, kicked 20 extra points and completed 50 of 146 passes for 921 yards. He also averaged 46.3 yards on 34 kickoffs and 38 yards on 233 punts.
In November of 1935, Berwanger received a telegram from Manhattan's Downtown Athletic Club, informing him that he had won a trophy for being the most valuable football player east of the Mississippi, as well as a trip for two to New York.
Berwanger was the first player chosen in the National Football League's first-ever player draft in 1936. He was selected by the Philadelphia Eagles, but Coach George Halas of the Chicago Bears acquired his signing rights. However, when Berwanger asked for $25,000 over two years, Halas decided that that was too much money, so Berwanger took a job as a foam-rubber salesman and never played in the NFL.
Berwanger went on to write a sports column for the Chicago Daily News, refereed college football games and, from 1936 to 1939, coached football at Chicago. Berwanger had a bit part, playing himself, in the 1936 football movie, "The Big Game," starring Bruce Cabot and Andy Devine. The movie also features William Shakespeare, an All-America halfback from Notre Dame who was third in the Heisman voting behind Berwanger in 1935.
During World War II, Berwanger enrolled in the Navy's flight-training program and became a naval officer. After the war, Berwanger set up Jay Berwanger, Inc., a manufacturer of plastic and sponge-rubber strips for car doors, trunks and farm machinery, in Downers Grove, Ill.
Berwanger was inducted into the College Football Hall of Fame in 1954. In 1989, he was included on Sports Illustrated's 25-year Anniversary All-America team. He passed away June 26th, 2002 at the age of 88.
Finding his Grave
Jay Berwanger is buried in the Bronswood Cemetery in Oak Brook, Illinois. The address is 3805 Madison Street. He is located in Section G9. When you enter the cemetery off Madison Street, keep going straight until you come to a bridge that crosses a body of water. Berwanger's grave is straight ahead, directly across from the bridge. There is a cement statue of a dog next to his headstone that makes it easy to find.