The Grave of Bo Schembechler
by Randy Snow
Originally posted on Yahoo! Voices, Tuesday, April 15, 2014
Any University of Michigan fan knows the name, Bo Schembechler. When he retired as head football coach of the Wolverines in 1989, he was the fifth winningest coach in college football history. But did you know that he is actually buried in Ann Arbor as well? Until recently, I did not. So I recently set out to find his gravesite and to pay my respects.
Glenn E. "Bo" Schembechler, Jr. was born on April 1, 1929 in Barberton, Ohio, a suburb of Akron. He attended and played football at the University of Miami (Ohio), graduating in 1951. The Miami head coach in 1949 and 1950 was Woody Hayes. When Hayes took the head coaching job at Ohio State in 1951, Schembechler went too and became a graduate assistant coaching under Hayes in 1951 and 1952. Over the years, Schembechler also spent time as an assistant coach at Presbyterian College, Bowling Green State University and Northwestern. He returned to Ohio State as an assistant coach from 1958-1962.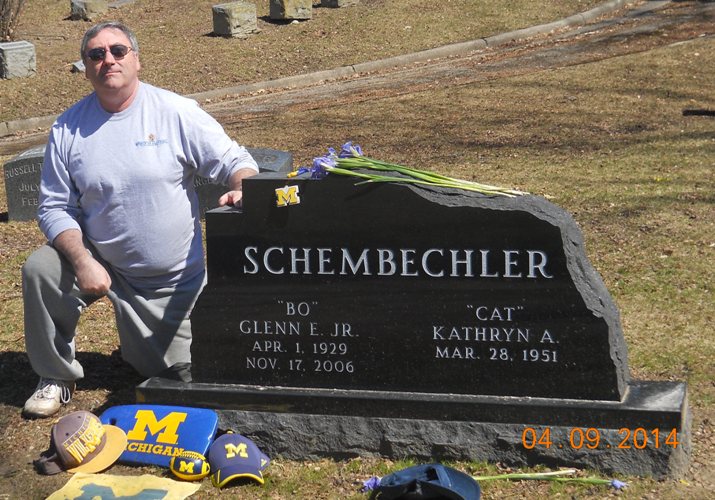 Schembechler then became the head coach at Miami (Ohio) from 1963-1968, leading the team to two Mid-American Conference championships. There is a statue of him in the Cradle of Coaches Plaza outside the Miami football stadium. He is one of several former coaches so honored. All spent time there and went on to even greater success. Others include former NFL head coaches Paul Brown, Weeb Ewbank and Sid Gillman as well as Notre Dame head coach Ara Parseghian. Current Baltimore Ravens head coach John Harbaugh is also getting a statue on the plaza this year. (http://spec.lib.muohio.edu/cradleofcoaches)
Schembechler then became the head coach at Michigan for 21 seasons from 1969-1989. Schembechler took the Wolverines to a bowl game in 17 of his 21 seasons, including 10 Rose Bowls. He also won 13 Big Ten titles. His annual battles against Woody Hayes and the Ohio State Buckeyes have become legendary in college football. It was known as the Ten Year War and lasted from 1969-1978. Michigan won 5, lost 4 and tied 1.
Between Miami and Michigan, Schembechler spent 27 years as a head coach. His record at Michigan was 194-48-5 and his overall record was 234-65-8. His teams never had a losing season. He also served as Michigan's director of athletics from 1988-1990 and he is a past president of the American Football Coaches Association. (mgoblue.com)
After he retired from coaching at Michigan, his career took an unexpected turn when he was named president of Major League Baseball's Detroit Tigers from 1989-1992.
He was inducted into the University of Michigan Hall of Honor in 1992 as well as the Rose Bowl Hall of Fame and the College Football Hall of Fame in 1993.
Schembechler died of heart failure on November 17, 2006 at the age of 77.
A larger than life statue of Schembechler was recently unveiled outside Schembechler Hall on the U of M campus as part of renovations that were recently completed. The Statue is accompanied by one of his most famous quotes, "Those who stay will be champions."
Schembechler is buried in the Forest Hills Cemetery just about a mile and a half northeast of The Big House in Ann Arbor. The cemetery address is 415 South Observatory Street at Geddes Avenue. His grave is in Section 54 and is right next to the road. It is a modern looking, black stone that seems a little out of place in such a historic, gothic-style cemetery, which dates back to 1856. If you go, stop in at the office and get a map of the cemetery. It will be much easier to find his grave that way.
Forest Hills Cemetery is also the final resting place for a couple of other icons associated with Michigan football, head coach Fielding Yost, legendary Michigan radio announcer, Bob Ufer and former U of M quarterback, Peter Elliott. I will have more on those Michigan legends in a future article.
Bo Schembechler may have been born and raised in Ohio, but he will forever be known as a "Michigan" man.