The Grave of Fielding Yost
by Randy Snow
Originally posted on Yahoo! Voices, Sunday, April 27, 2014
In a previous article, I told of going to the Forest Hills Cemetery in Ann Arbor, MI to visit the grave of Bo Schembechler. Well, Bo is not the only famous Michigan head coach who is buried in that cemetery. The man who not only coached the Wolverines and is also responsible for building Michigan Stadium, a.k.a., The Big House, is also there, Fielding H. Yost.
Yost was born and raised in West Virginia. His first college head coaching job was at Ohio Wesleyan in 1897. He also coached briefly at Nebraska, Kansas and Stanford before arriving at Michigan.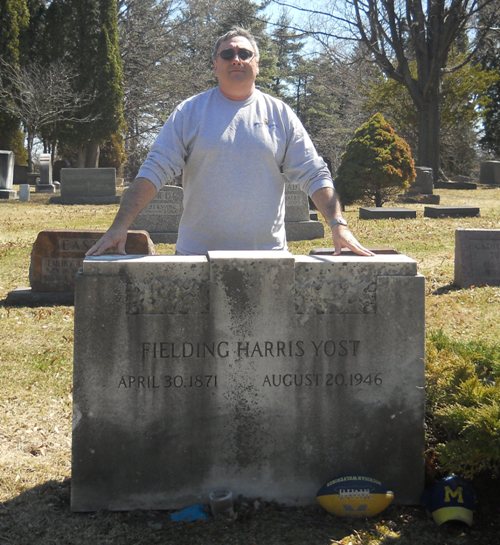 Yost was head coach at Michigan from 1901-1923 as well as in 1925 and 1926. In 1901, the Wolverines shut out every team they faced and outscored their opponents 550-0. Those early Michigan teams earned the nickname of the "Point-A-Minute" teams due to the many times that they scored over 60 points a game.
He was known as "Hurry Up" Yost, because of the way his teams would hurry back to the line of scrimmage and run another play before the defense had recovered from the previous play. It was similar to today's No-Huddle Offense. Michigan went undefeated (with one tie) in Yost's first four years as head coach, finally losing their first game in 1905.
Yost was also the school's athletic director from 1921-1941. One of his first projects as AD was building what he called, a field house. Something that would be big enough for the football team to practice in during inclement weather. It would also be used for basketball and hockey games. It was a totally unique concept at the time and when it was completed in 1922, students successfully petitioned to have it named the Yost Field House.
It was as the Michigan AD that he made his greatest contribution to the school, building Michigan Stadium. From 1906-1926, Michigan played its home games at Ferry Field. It was a wooden-bleacher stadium that held about 45,000 people. Because of the team's success on the football field, the demand for tickets to Michigan football games was growing every year and it was getting increasingly harder to keep up with the demand. A few other Big Ten teams were building new concrete stadiums about that time including Ohio State, Minnesota and Illinois.
Yost conceived the idea for Michigan Stadium after seeing the Los Angeles Coliseum in 1923. He modeled his design on the same bowl shape.
To pay for a new stadium, other schools sought donations from students and alumni, but Yost decided he would sell bonds to raise the money. He offered 2,000 tax-free bonds at $500 each. When those sold out in just a few months, Yost issued 1,000 more, raising a total of $1.5 million. Those who purchased bonds received the rights to purchase two preferred tickets to all Michigan home games for the next 20 years.
Excavation for Michigan Stadium began in the fall of 1926. They began pouring concrete in May of 1927 and in just five months, all the concrete work was completed. Originally, the stadium held 75,000 fans, but it was designed to be expanded by 30,000-40,000 seats if needed.
Michigan played its first home game in the new stadium on October 1, 1927 against Ohio Wesleyan, the school where he was the head coach in 1897.
Yost was also known as "The Grand Old Man," because of the many years he had been at the school. He died on August 20, 1946.
According to www.sports-reference.com, in his 25 seasons as head coach at Michigan, Yost posted a record of 165-29-10. However, he coached in only one bowl game. But it was in the first ever bowl game, the 1902 Rose Bowl (following the 1901 season). Michigan defeated Stanford 49-0. Michigan would not participate in another bowl game until 1948, when it defeated Southern California, again in the Rose Bowl.
Compared to the modern looking headstone that Bo Schembechler has at the historic Forest Hills Cemetery, the one for Fielding Yost looks like it belongs there. It is a simple, grey stone with his name and dates on it. Nothing fancy or ostentatious.
It is located in Section 8 in the northwest part of the cemetery. There are four separate stones in front of it marking the graves of his wife and children.
As well as Schembechler and Yost, there are two other Michigan legends buried in the Forest Hills Cemetery in Ann Arbor; long-time radio broadcaster Bob Ufer and quarterback Peter Elliott. They will be the subject of a future article.
Yost's contributions to the University of Michigan as a head coach and athletic directory will forever be etched in U of M history. It was his contributions that set the school on the direction that it still follows today. A tradition of winning and a high standard of leading the way for other schools to follow. That is the legacy of Fielding Yost.