The Grave of Gerald R. Ford
by Randy Snow
Original to www.theworldoffootball.com, Saturday, December 10, 2022
If you have been reading these articles about my visits to the final resting places of football icons, you may be a bit surprised by this one. If you are not familiar with the connection between former President Gerald R. Ford, Jr. and football, then you will definitely want to keep reading. This is Gridiron Grave visit # 44.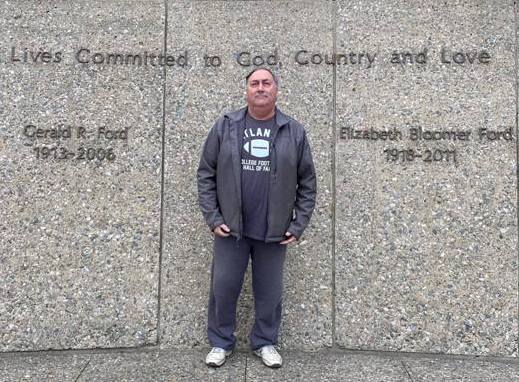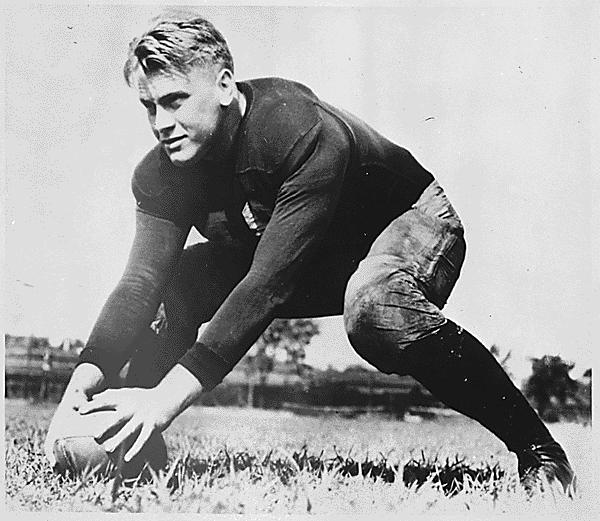 Gerald Ford was born Leslie Lynch King, Jr. on July 14, 1913. Everyone just called him Junior. His parents got divorced before he was a year old. His mother, Dorothy, moved from Chicago to Grand Rapids, Michigan in 1916 to be near her mother after her father had passed away. That's where Dorothy met Gerald R. Ford at a church social. Dorothy and Gerald were married in February of 1917.
Junior began to stutter in the second grade and it was later determined that it was brought on by the fact that his teachers were trying to make him write with his right hand. He was naturally left-handed. Once they allowed him to be left-handed, the stuttering stopped.
Junior also had problems controlling his temper. Sports was one outlet that helped him to deal with his anger issues. Another was the Boy Scouts, which he joined at age 12 in 1925. Two years later, at the age of 14, he achieved the rank of Eagle Scout. Around 1928, Junior began to refer to himself as Jerry Ford or Gerald, Jr., after his step-father. His teammates began calling him "Junie," which was a combination of Junior and Jerry.
In August 1929, Jerry was invited to be one of the first scouts to take part in an honor guard at Fort Mackinac on Mackinac Island in the upper peninsula of Michigan. Eight eagle scouts from around the state were selected. They were all brought to the state capital in Lansing and had their picture taken with Governor Fred Green. From there it was on to Detroit where they were taken by steamship to the island. The scouts camped at the fort during the entire month of August and gave tours to the visitors. This tradition of having scouts from around the state giving tours at the fort still continues to this day.
When it came to sports, Jerry Ford was a natural. Football was his passion, but he also played basketball, threw the discus and shot put on the track team and was on a swimming team at the YMCA. He tried out for the JV football team at South High in Grand Rapids in the spring of 1927. The coaching staff put him at center because of his size. He worked hard to perfect snapping the ball in various situations. In those days, the team used the double-wing formation, which meant that sometimes the center had to hike the ball to a runner who was already in motion.
After that, Jerry could always be found with a football in his hands. He played on the JV team just one year and was moved up to the varsity team in 1928 as the backup center. But before the season even began the starting center suffered an injury and Jerry became the starting center. He played so well that he remained the starter for the entire season. Because players played both ways in those days, Ford also played linebacker on defense. The 1928 South High Trojans won the city championship and Jerry was named the center on the All-City Team by the Grand Rapids Herald newspaper.
Jerry injured his knee during a practice in the third week of the 1929 high school season, his junior year, and spent a considerable amount of time on the bench. After the season, a new South High teacher, Danny Rose, offered to take Jerry to the University of Michigan to have his knee examined by the athletic trainers at the college. Rose had been a star basketball player at Michigan just a year earlier. Rose was also the school's new basketball coach and an assistant football coach.
In early 1930, Dr. Carl Badgley, a member of the U of M training staff, operated on Jerry's knee. It was a complete success. Jerry' step father paid for the operation.
Later that year, in his senior high school football season, Jerry was named team captain and was also named to the Grand Rapids Press All-City Team at the end of the season. The city championship came down to the last game of the season between two undefeated teams, South High and Union High. Not only was it for the city championship but it was also for a state title. The game was played in terrible, snowy conditions on Thanksgiving weekend. It ended in a scoreless tie so both schools shared the title. But soon after, it was discovered that Union had a player who had accepted money from a major league baseball team that he was expecting to sign with after graduating from high school. This caused him to lose his amateur status and therefore, made him an ineligible player. Union had to forfeit all of their wins and therefore, South High became the lone city and state football champions.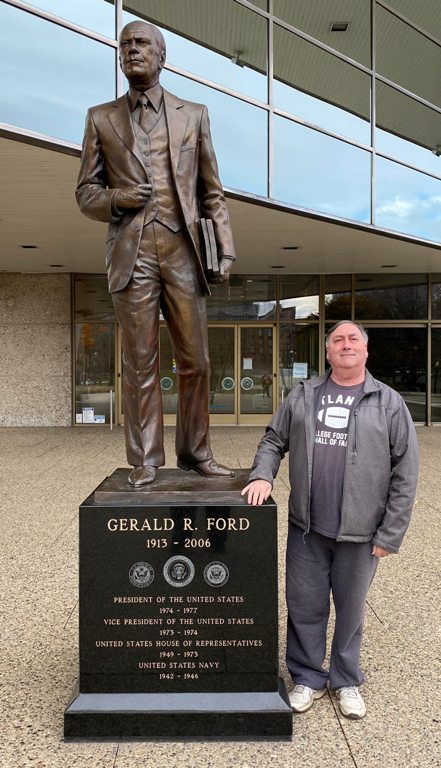 Jerry knew that he wanted to go on to college and study law so he had been taking college prep classes during high school. However, his grades were just average. He took the entrance exams to get into Michigan State and Northwestern, but did not pass either one. The University of Michigan allowed the top 15% of students in each school in the state to qualify to take classes there, so Jerry was able to enroll at Michigan, the same school that had fixed his knee and saved his football career.
In his freshman seas with the Wolverines, Jerry was named the Outstanding Freshman Player. He played center on the Michigan varsity team from 1932 to 1934. The Wolverines won back-to-back national championships in 1932 and 1933. The school posted a record of 8-0 in 1932 and 7-0-1 in 1933. Jerry was named Michigan's Most Valuable Player as a senior in 1934.
He went on to play in the East-West Shrine Game after his senior season. He played so well in that game that he had offers to play professionally from the Detroit Lions and the Green Bay Packers. (The NFL Draft did not begin until 1936) Instead, after he graduated from Michigan, he took a job as an assistant football coach at Yale University, where he also enrolled in its law school.
After he graduated from Michigan in the Spring of 1935, he legally changed his name to Gerald R. Ford, Jr. in honor of the step father who had raised him.
A 2011 documentary called Black and Blue contains an interview with Ford about an incident that occurred during his senior football season at Michigan. Willis Ward, an African-American wide receiver on the team was at the center of a controversy prior to a game against Georgia Tech. Ward and Ford were roommates whenever the team travelled to away games and were close friends. Many southern schools at the time did not want to play schools that had African-American players on their teams. Georgia Tech threatened to walk off the field if Ward played in the game. Ford was going to sit out the game in protest, but Ward convinced him that he should play. Ford took out his anger during the game and helped lead the Wolverines to a 9-2 victory. It was the team's only win of the season.
Ford was serving in Congress when vice President Spiro Agnew resigned after being charged with tax evasion. Ford was then appointed the Vice President by President Richard Nixon and sworn in on December 6, 1973.
Ford became the 38th President of the United States when Richard Nixon resigned in 1974 over the Watergate scandal. In 1976, Ford lost to Jimmy Carter in the presidential election.
In 1994, Ford's number (48) was retired by the University of Michigan. It was un-retired in 2012 along with several other numbers. Players who now wear an un-retired number also have a "Michigan Legends" patch on their uniforms with the name of the player for who the number was originally retired in honor of.
Gerald Ford died on December 26, 2006 at his home in Rancho Mirage, California at the age of 93. To this day, Ford is the only President who was never elected either President or Vice President
To the world, he may only be known as the former President of the United States. But in the world of football, Gerald R. Ford, Jr. was a high school football state champion, a two-time college football national champion and an assistant college football coach at an Ivy League school. That in itself would be an impressive resume for any athlete, but it is even more impressive when you realize that sports was just a small part of life of the man who would go on to become President of the United States.
Finding his Grave
Ford is buried on the grounds of the Gerald R. Ford Presidential Museum in Grand Rapids, Michigan. The address is 303 Pearl Street NW, Grand Rapids, MI 49504. His final resting place, along with his wife, Betty Ford, is located north of the museum building. Follow the walking path that goes along the Grand River in front of the museum. It is just past the building on your left. The Burial Site is open to the public every day (except Thanksgiving, Christmas Day and New Year's Day) from 9 am to 5 pm.