The Grave of Gus Dorais
by Randy Snow
Original to www.theworldoffootball.com, Sunday, December 4, 2022
From the beach at Cedar Point in Sandusky, Ohio to being portrayed in the movie Knute Rockne-All American, Gus Dorais' life touched many facets of the football world. I have known about Dorais' career for some time through my research into other players and events in football history, but I recently discovered that the location of his final resting place was right here in the state of Michigan, so I decided to go and pay my respects to the legendary Notre Dame quarterback and Detroit Lions head coach. This is Gridiron Grave visit #43.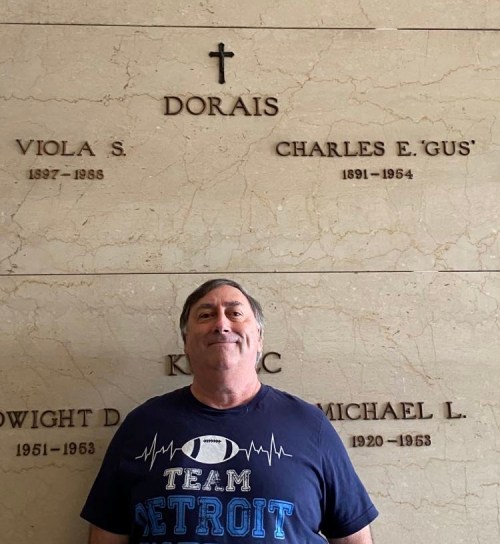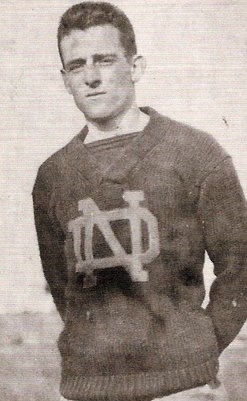 Charles E. "Gus" Dorais was born on July 2, 1891 in Chippewa Falls, Wisconsin and grew up playing baseball, football and running track. Ironically, he attended Notre Dame High School, a parochial school in Chippewa Falls, from 1906-1908. However, he switched to Chippewa Falls High School for his senior year in 1909 because their football team was better. That season, he was named an All-State quarterback and led the Chippewa Falls Senior High School football team to a state championship. Because of his small size, about five foot seven and less than 150 pounds, he gained the nickname "The Little General" or "Little Napoleon" by the local newspapers. Football helmets were not mandatory when Dorais played high school football and he never wore one, not even during his college or professional days.
When it came time to apply for college, his first choice was the University of Minnesota, but when that did not work out, he ended up at Notre Dame University in South Bend, Indiana. This is where he met Knute Rockne, who played end on the football team. They were assigned as roommates the day they both arrive on campus. They continued to be roommates for the next four years, becoming teammates and lifelong friends.
From 1911-1913, Rockne and Dorais spent their summers working at Cedar Point in Sandusky, Ohio. They bussed tables in a restaurant and also worked as lifeguards on the beach. When they weren't working, they were tossing a football around on the beach. Dorais was perfecting his passing technique with the oversized football of the era and getting better with his accuracy. Rockne was learning how best to catch and control the ball as it was thrown to him on the run. There was also timing that needed to be developed between the two. All of their work and practice would pay off on one November afternoon in 1913.
In their most famous game at Notre Dame, Dorais and Knute Rockne showed the West Point Cadets, as well as the rest of the run-oriented teams and media outlets on the east coast, what a well-oiled passing game could do. They stunned the football world by beating heavily favored Army 35-13 at West Point on November 1, 1913.
While Dorais was playing at Notre Dame, the football team posted a record of 24-1-3. They went undefeated in 1911, 1912 and 1913.
After graduating from Notre Dame in the spring of 1914, Dorais became the head coach at Dubuque College in Iowa. Rockne stayed on at Notre Dame, becoming an assistant football coach to Jesse Harper. Rockne and Dorais were reunited on July 15, 1914 in Sandusky, Ohio when Dorais acted as best man at the wedding of Rockne and Bonnie Skiles. Knute and Bonnie met during the summer of 1913 while they were both working at Cedar Point.
Dorais was the head coach at Dubuque College for four years, from 1914-1917, posting a record of 19 wins, nine losses and two ties. While coaching at Dubuque, Dorais met Viola Fettgather. The two started dating and were married on April 20, 1918 in Des Moines, Iowa. Knute Rockne was in attendance at the wedding. Gus and Viola had five children.
Dorais also spent time in the Army during World War I. He enlisted on December 29, 1917 and was commissioned as a Second Lieutenant on June 5, 1918. He was assigned to Camp MacArthur, a military training base in Waco, Texas and served as the director of athletics. Dorais started a base football team and was the coach as well as the quarterback of the team.
When World War I ended on November 11, 1918, Dorais' brief stint in the Army was over. He returned to Notre Dame in 1919 and served as the backfield coach under Rockne, who was in his second year as the head football coach.
Even though he was coaching at the college level, Dorais dabbled in playing professional football in the years before the NFL was founded. He played in three games with the Massillon (Ohio) Tigers in 1915, two game in 1916 and eight games in 1919. He also played in five games for the Fort Wayne (Indiana) Friars in 1916 and nine games in 1917. His overall record as a pro football quarterback was 18-6-3.
On November 16, 1919, Dorais and Rockne were both playing in a professional football game for the Massillon Tigers against Jim Thorpe and the Canton Bulldogs. Dorais was injured late in the game when he was hit by Jim Thorpe. Dorais played very little the rest of the season and never played again after 1919.
In 1920, Dorais became the head coach at Gonzaga. He coached there for five seasons, from 1920-1924, posting record of 21 wins, 13 losses and three ties. He also spent time as the school's athletic director.
Dorais then became the head football coach at the University of Detroit Mercy in 1925. He served as head coach for 18 years, through 1942 and brought national recognition to the school and the football program. His overall record at Detroit Mercy was 153 wins, 70 losses and 12 ties including a 19-game winning streak between 1927 and 1929. This led to him being hired as the head coach of the NFL Detroit Lions in 1943. In five seasons as head coach of the Lions, Dorais compiled a record of 20 wins, 31 losses and two ties.
In 1948, Dorais took a job as a scout for the New York Yankees of the All America Football Conference (AAFC), a rival to the NFL for four years (1946-1949). He was also a scout for the AAFC Chicago Hornets in 1949. That same year, he took over a car dealership in Wabash, Indiana along with his son, Bill. It was called Gus Dorais Chevrolet. Today, the dealership is still in business. It is now known as Dorais Chevrolet Buick GMC and is run by Gus' grandson, David.
On September 1, 1949, Dorais was once again back at Cedar Point. This time he was there to help unveil a bronze plaque on the beach honoring Knute Rockne.
Gus Dorais passed away on January 3, 1954 at the age of 62. At his funeral, his six pallbearers were all former football players of his from the University of Detroit.
Dorais has been inducted into a number of Halls of Fame including the College Football Hall of Fame (1954), the Wisconsin Athletic Hall of Fame (1955), the Michigan Sports Hall of Fame (1958), the Chippewa Falls High School Hall of Fame (1981), the Loras College (formerly Dubuque College) Athletics Hall of Fame (1983), the Detroit Mercy Hall of Fame (1987) and the Gonzaga Athletic Hall of Fame (1988).
Gus Dorais was a winner almost everywhere he went. He was a state champion in high school, lost only one game in four years at Notre Dame, had winning records as a head coach at three different colleges and also had a winning record as a pro football player. It seems that his only losing record came at the helm of the Detroit Lions. Go figure!
Finding his Grave
Gus Dorais is buried in the huge mausoleum at the Holy Sepulchre Catholic Cemetery in Southfield, Michigan. The cemetery address is 25800 West 10 Mile Road. His alcove is located along the front of the building on the upper level, number 109-W. The numbers are not located on the entrance of the alcoves. You will have to walk about halfway into the alcoves to see the numbers on the wall near the floor. His crypt is four rows up on the left-hand side. He and his wife, Viola are buried next to their son, David, who passed away in 1947.
Rumor Control
There is no truth to the rumor that the reason I visit so many graveyards and mausoleums is because I have been scoping out a final resting place for myself. This is not true. However, there have been several times when I was tracking down a Gridiron Grave and someone from the cemetery office has offered to sell me a burial plot near the person I was looking for!