The Grave of Jack Trice
by Randy Snow
Original to www.theworldoffootball.com, Monday, July 26, 2021
John G. "Jack" Trice was born on May 12, 1902 in Hiram, OH and was the first African-American to play college football for the Iowa State University Cyclones. He played on the defensive line and was there studying to become a veterinarian.
After spending the 1922 season playing on the freshman team, Trice was playing in just his second varsity football game for Iowa State on October 6, 1923. It was a road game against the University of Minnesota. He was 21 years old.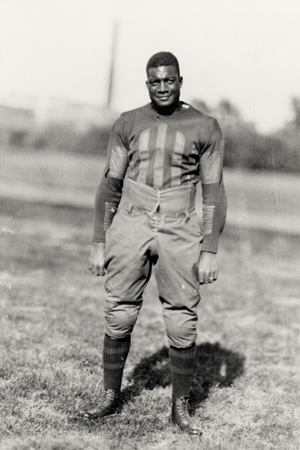 The night before the game, Trice wrote down his thoughts on the Curtis Hotel stationary where he was staying. It reads as follows;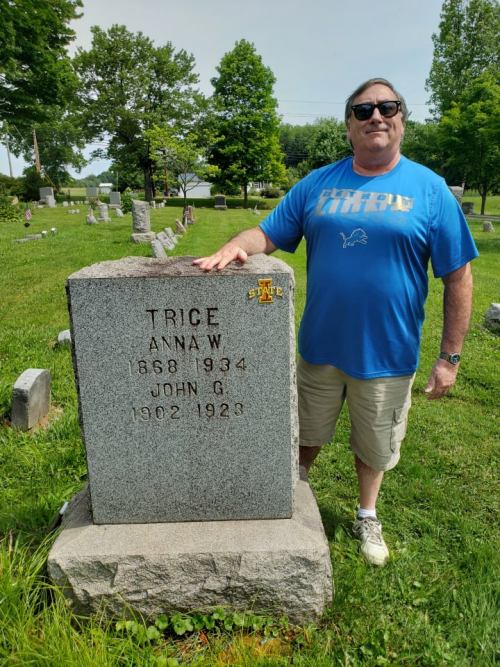 "To whom it may concern:
My thoughts just before the first real college game of my life. The honor of my race, family and self are at stake. Everyone is expecting me to do big things. I will! My whole body and soul are to be thrown recklessly about on the field tomorrow. Every time the ball is snapped, I will be trying to do more than my part. On all defensive plays I must break thru the opponent's line and stop the play in their territory. Beware of mass interference, fight low, with your eyes open and toward the play. Roll block the interference. Watch out for cross bucks and reverse end runs. Be on your toes every minute, if you expect to make good."
Early in the first half, Trice was injured, but he continued to play. It was later determined that he had broken his collar bone.
In the second half of the game, Trice was blocking low against the oncoming Minnesota linemen. He ended up being thrown onto his back and was literally trampled over by the opposing fullback. His injuries were so severe that he was carried off the field and taken to a local hospital. After the game he was allowed to return to Iowa State on the train with his team, but he was back in the hospital as soon as he returned to Ames, Iowa.
Two days later, on October 8, 1923, Trice died of internal bleeding, a result of his injuries sustained during the game. His young wife, Cora Mae, was at his side. Classes at Iowa State were cancelled on October 10 and a memorial service was held at the school. His casket was carried by his teammates, who also collected money to pay for sending his body back to Ohio for burial.
Some believe that Trice was targeted by the Minnesota players because he was black, but that was never proven. After Trice's death, Iowa State refused to play Minnesota for the next 66 years, until 1989.
Over the years, Trice's tragic story was all but forgotten at the school. Then, in 1957, Iowa State professor Tom Emmerson wrote an article about Trice in the school's student magazine. But even that did not keep Trice's memory alive.
In 1973, that very same article from 1957 was rediscovered by an English teacher, John Sohn. He presented it to his class and his students began a crusade to name the new football stadium, which was under construction at the time, after Trice.
The student's efforts, however, met much resistance, but they never gave up the fight. When the stadium opened in 1975, it did not have a name. It would eventually be called Cyclone Stadium in 1976. But the students at the school kept pressure on the school's administration to change the name over the next 20 years. In 1988, a statue of Trice was placed outside the stadium that had been funded by the students. Finally, on August 30, 1997, 74 years after his death, Cyclone Stadium was officially renamed Jack Trice Stadium.
Today, it is the only major college football stadium in the country that is named after an African-American.
The story behind the naming of the stadium is a long and painful one, but one that needs to be told. And it is all thanks to a predominantly white student body, who knew that it was an important step in keeping the memory of Jack Trice and his sacrifice, alive. And they were not going to take no for an answer.
If You Go
Jack Trice is buried in the Fairview Cemetery in Hiram, OH. The address is 11394 Ryder Road, Hiram, OH 44234. It is located at the intersection of State Route 82 and Ryder Road, His grave is located in Section C-1, Row 5. The sections of the cemetery are not well marked, but Section C is located along Ryder Road. His headstone faces sideways compared to the rest of the headstone in that section, which all face Ryder Road. He shares a headstone with his parents. His mother, Anna, is listed above Jack's name on the back while his father, Green Trice, is listed on the front of the headstone.