The Grave of Jim Thorpe
by Randy Snow
Originally posted on AmericanChronicle.com, Sunday, April 4, 2010
Recently, I took a couple of my sons to see the grave of a truly legendary figure in football history, Jim Thorpe. The story of how Thorpe came to be buried in Pennsylvania and not in his native Oklahoma is a fascinating tale in itself. But the story of his life and athletic career is just as fascinating.

Thorpe was a Native American born and raised in Oklahoma. In 1904, at the age of 16, his father sent him to the Carlisle Indian School in Pennsylvania to receive an education in hopes of providing him with a better life. While at Carlisle, Thorpe showed a great aptitude for sports, especially football, track and baseball. He was coached in all three sports by legendary football coach Pop Warner, who was the Carlisle athletic director at the time.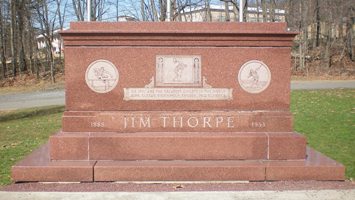 Thorpe won the 10 event Decathlon and the five event Pentathlon in the 1912 Olympics in Stockholm, Sweden. He was a star in college football and also played for the Canton Bulldogs, New York Giants and Chicago Cardinals of the NFL. Thorpe was instrumental in helping form, and then played for, another NFL team, the Oorang Indians from 1922-1923. The team was made up entirely of Native American players, many who had played at Carlisle. He was even the first president of the American Professional Football Association in 1920, which changed its name to the National Football League in 1922.

Thorpe also played professional baseball for the New York Giants, among other teams. When his playing career was over, he appeared in many movies, often as an uncredited extra.

Thorpe died on March 28, 1953 at the age of 64. At the time of his death, he was married to Patricia Askew, his third wife. She wanted a fitting monument to be erected in honor of her husband, who was considered by many to be the greatest athlete of his time. The governor of Oklahoma refused to pay for a monument to Thorpe, so Patricia began to look elsewhere. That's when the towns of Mauch Chunk and East Mauch Chunk decided to consolidate to become Jim Thorpe, Pennsylvania. The town purchased his remains in 1954 and moved them to where they are today.

THE TRIP

To find the grave of Jim Thorpe my sons and I set out from our home in Michigan, drove down through Ohio and eventually turned onto Interstate 80, which took us eastward across the state of Pennsylvania. We stopped for the night and continued on our way the next morning. Not long after we passed by the exit that would have taken us to the cities of Wilkes-Barre and Scranton, we turned off I-80 and headed south towards the town of Jim Thorpe.

After driving around the quaint little town for a while, and not seeing any signs that would have directed us to Thorpe's final resting place, I decided to stop at a gas station and ask for directions. I know, I know, men don't usually admit to doing such things, but I did, so there.
When I asked the lady behind the counter where Thorpe's grave was, she looked at me like I was from Mars. I thought that it was odd that someone who worked and most likely lived in Jim Thorpe, PA did not know where to find the grave of the person the town was named after. Fortunately, an older gentleman who had just paid for his purchase knew exactly what I was looking for and gave me excellent directions to the site. It is located on the north end of town on Highway 903. "You can't miss it," he said, and he was right.

The huge, above-ground crypt and statue of Thorpe are plainly visible as you approach the roadside pull-off dedicated to the legendary athlete. A sign near the road says, Jim Thorpe Memorial.

The crypt containing his remains is adorned with several carvings depicting Thorpe's many athletic accomplishments, from football to baseball to track and field. On the front of the monument is a quote from King Gustav of Sweden as he presented Thorpe with his Olympic medals. He said, "Sir, you are the greatest athlete in the world!"

There is also a modern art sculpture at the site called "The Spirit of Thunder and Lightning" which is surrounded by several informational panels that talk about the various stages of Thorpe's life and athletic career.

After we took many pictures to prove that we had actually been there, we continued our journey back through Pennsylvania. Not far from Jim Thorpe we drove past the town of Carlisle, where Thorpe went to school. It is located near the city of Harrisburg. Today, the site of the Carlisle Indian School is part of the Army's War College.

We did make a small detour in Ohio on our way home and stopped at the Pro Football Hall of Fame in Canton. When you walk in the front door, the first thing you see is a statue of Jim Thorpe, who was enshrined in the Hall's very first class of inductees in 1963.

By the way, the Jim Thorpe High School's nickname for its sports teams is a unique one that you don't hear everyday. They are known as the Jim Thorpe Olympians.

LINKS

Official Jim Thorpe, PA web site

Jim Thorpe page on the Pro Football Hall of Fame web site