The Grave of Robert Zuppke
by Randy Snow
Original to www.theworldoffootball.com, Friday, August 10, 2018
When you think of the University of Illinois, several famous alumni come to mind. Red Grange, Dick Butkus, Ray Nitschke and George Halas, just to name a few. But one name that is not as well-known outside of the Land of Lincoln is that of Illinois head coach Robert Zuppke.
Zuppke was born in Germany in 1879 and immigrated to America with his family to Madison, Wisconsin at the age of two. He loved to play all kinds of sports growing up and was also interested in art.
He graduated from the University of Wisconsin at Madison in 1905 and then went to New York to try and make a living as an artist. In 1906, he took a job as a furniture illustrator for an advertising company in Grand Rapids, Michigan. He soon learned that there was an opening for a high school football coach in the nearby town of Muskegon, Michigan. He interviewed for the position and was hired.
Zuppke coached at Muskegon High School for four years, from 1906-1909, and led the football team to a state title in 1908. He also coached track at Muskegon and led the track team to a state title in 1909. Zuppke then took a job as the head coach at Oak Park High School just outside of Chicago. He was there for three years and led the team to three consecutive Cook County championships.
In December of 1912, Zuppke met George Huff, the athletic director at the University of Illinois, and Huff hired him to coach the Illini.
Zuppke coached at Illinois for 29 seasons, from 1913-1941, and led the school to seven Big Ten titles and four college football national championships; 1914, 1919, 1923 and 1927. His coaching record at Illinois was 131-81-12.
Zuppke was not only a great coach, but he was also a great speaker. When he was not coaching, he was in great demand, traveling all over the country and lecturing on football. In 1921, he helped to form the College Football Coaches Association.
When Zuppke saw that other schools in the Big Ten Conference were building concrete football stadiums, he set out to build one at Illinois. The team had been playing in a 22,000-seat wooden bleacher stadium when he proposed building a 65,000-seat concrete stadium that would be a memorial to service members who fought in World War I. A fund-raising campaign was started and by February 1922, over $1.77 million had been raised. Ground was broken on the new stadium in September 1922.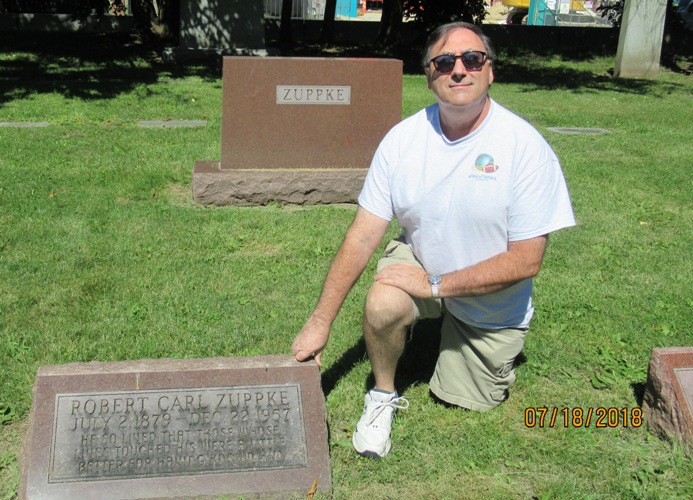 Memorial Stadium was completed in 1924 and the dedication game was played on October 18 against the University of Michigan. The Wolverines were the hottest team in the country at the time and had not lost a game since 1921. The stadium may have been Zuppke's greatest achievement to date, but it was Red Grange who stole the show that day, scoring four touchdowns in the first 12 minutes of the game, leading Illinois to a 39-14 upset win over Michigan.
Even though he is best known as a college football coach, Zuppke enjoyed painting. He was very passionate about the hobby and created about 30 paintings per year during his adult life. Most of them were landscapes and many were simply given away to friends. Some paintings, however, found their way to art galleries where his work was considered quite good by art critics.
Robert Zuppke passed away on December 22, 1957 at the age of 78. Red Grange was one of the people who spoke at his funeral. In 1966, the stadium playing field was named Zuppke Field in his honor.
In 2016, the school hosted an exhibit of more than 20 of Zuppke's painting called, "The Art of Coach Bob Zuppke." He was inducted into the College Football Hall of Fame in 1951.
If you go
Zuppke is buried in the Roselawn Cemetery, right across the street on the east side of the stadium that he helped build. Use the South 4th Street entrance. His grave is just a few rows back along South 4th Street. (I was told that his grave is lined up with the 50-yard line of the field and it certainly seemed that way to me) Between Zuppke's grave and the road you will also find the grave of George Huff, the man who brought Zuppke to Illinois.
I would like to extend a special thank you to Kent Brown, the Associate Athletic Director/Media Relations at the University of Illinois for his assistance in locating Bob Zuppke's grave and giving my son, Abram, and I a tour of the stadium. He was a great source of knowledge on all things related to the history of the team, school and stadium.