The Grave of Sam Dunlap
by Randy Snow
Original to www.theworldoffootball.com, Tuesday, November 1, 2022
Since 2006, I have traveled the eastern half of the country searching out the final resting places of many icons in the world of football. From as far north as International Falls, MN (Bronko Nagurski) to as far south as Dallas, TX (Lamar Hunt and Tom Landry) and as far east as New Haven, CT (Walter Camp).
But recently, I discovered that there is also a football icon buried right here in Kalamazoo, MI. This is Gridiron Grave visit #42.
This time, along with my trusty graveyard photographer and son, Abram, we didn't have to go any farther than across town to find this grave. It is in a cemetery right next to the hospital where my wife gave birth to our three sons. My wife's mother and grandmother are also buried in the same cemetery. I have been there many times, never knowing that I was driving right past someone who meant a lot during the early days of college football in Kalamazoo.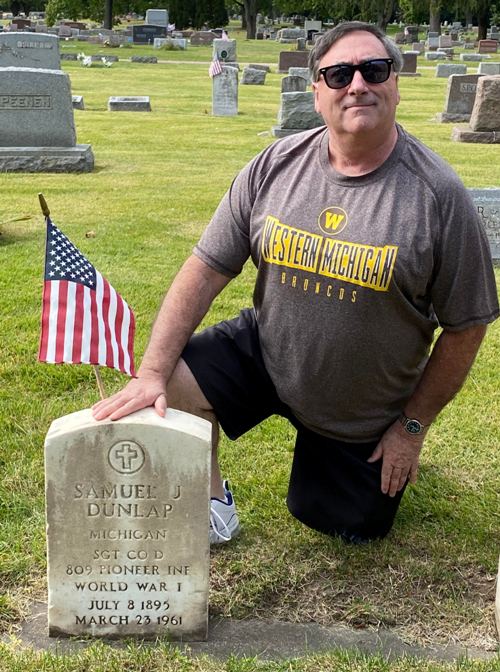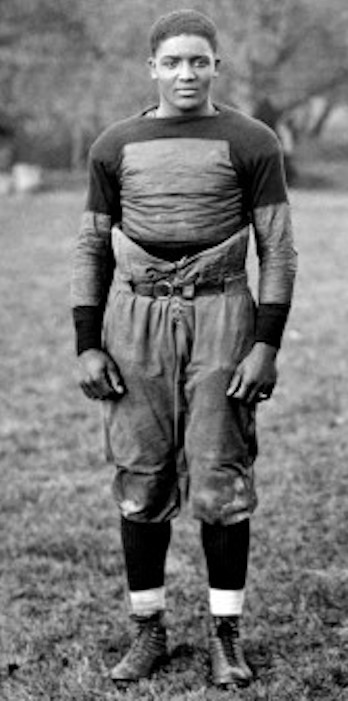 Sam Dunlap was born in Chicago on July 8, 1895 and grew up in Benton Harbor, MI, on the Lake Michigan shoreline. He was a standout high school football player and was recruited by the University of Michigan. That was, until they found out that he was black.
When Dwight Waldo, the president of Western State Normal School, which is today known as Western Michigan University, heard that the University of Michigan had refused to let him enroll, he extended an invitation to Dunlap to attend college in Kalamazoo, which he did.
Dunlap played halfback and was a punter in 1915, 1916 and 1917. He also played baseball at Western and was on the track team, earning 11 varsity letters.
In 1918, served in an African-American Army unit during WWI. He was assigned to the 809th Pioneer Infantry Regiment in France, where he served as an interpreter. Sgt. Dunlap returned to Western for his senior year in 1919.
He was known as "The Black Ghost," because of his speed and agility on the football field. During his time playing at Western, Dunlap scored 30 rushing touchdowns and set a single-season record of 19 rushing touchdowns in 1916, a record which stood until 2014.
Dunlap played in every game except for one during his college football career. In 1915, Western had a football game scheduled against the Culver Military Academy from Culver, Indiana. But the president of the Culver Academy called Waldo and told him that Culver would not play the game if Dunlap played. When the team discussed what they should do, it was Dunlap who chose not to play and encourage the team keep the game on the schedule. They did, and on November 13, 1915, Western went on to beat Culver by the score of 83-14.
In 1916, Dunlap scored seven touchdowns in a single game vs. Ohio Northern and scored a total of 122 points that season.
Dunlap and Western also played against Notre Dame in South Bend on October 25, 1919 and legendary college football coach Knute Rockne was impressed with Dunlap's athletic abilities. Rockne called him an All-American caliber player and one of the finest athletes he had ever seen. Notre Dame won the game 53-0.
After Dunlap graduated from Western, he went on to coach for three years at West Virginia Collegiate Institute, which is today known as West Virginia State University. He spent most of his life living in New York and in California before returning to Kalamazoo in 1951. He wanted to join the coaching staff at Western, but he ended up working as a janitor at the school for the remainder of his life. He passed away in on March 23, 1961 at the age of 65.
Dunlap was an inaugural member of the Western Michigan University Sports Hall of Fame in 1973, more than a decade after his death.
Today, the Western Michigan University Broncos play in Waldo Stadium, named after the man who encouraged Sam Dunlap to attend the school. Dunlap and Waldo remained friends for the rest of their lives.
For all the honors that he has received from the school over the years, and the records he set on the gridiron, the legacy of Sam Dunlap in Kalamazoo should never be forgotten.
Finding his Grave
Sam Dunlap is buried in the Riverside Cemetery in Kalamazoo. The address is 1015 Gull Road, Kalamazoo MI 49048. He is in Section HH, which is where many other military veterans are located. The Gull Road entrance to the cemetery is right next to the parking ramp entrance to Borgess Hospital. Section HH will be on your left shortly after you enter the cemetery. You will recognize it by all the military headstones.