The Grave of Walter Camp
by Randy Snow
Originally posted on Yahoo! Voices, Thursday, April 18, 2013
When you think of New Haven, Connecticut, you think of Yale University, the second oldest university in the country, behind only Harvard. And when the subject of historical names in the development of football comes up, there is none greater than Walter Camp, the Father of American Football.
First as a player and later as a coach, Camp's name became synonymous with Yale in the 1800's. He was a senior in high school when he attended the very first Harvard-Yale game in 1875. The next year, he was playing in it for Yale.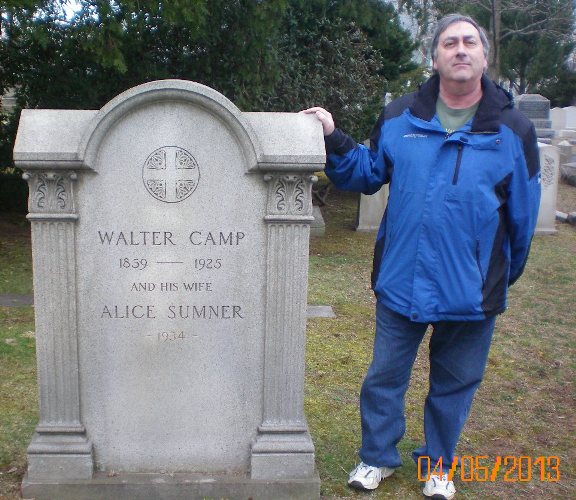 Camp played football from 1876-1881 and was a halfback as well as the team captain. Beginning in 1978, while still a student, Camp began representing Yale at football rules meetings with three other future Ivy League schools; Harvard, Princeton and Columbia.
In 1880, he persuaded the other schools to reduce the number of players per team from 15 to 11. He is also credited with developing the line of scrimmage, the center snap to begin a play, the quarterback position and a system of downs to advance the ball. Initially, it was three downs to go five yards. Camp would continue attending annual rules meetings and being at the forefront of the games development for the rest of his life, helping shape the game into what we know today.
He went on to coach at Yale from 1888-1892 and posted a 67-2 record. He also coached at Stanford in 1892 and 1894-1895.
Camp set out to "Americanize" the European game of rugby, which is a massive free for all where the ball is constantly changing possession from team to team. He envisioned a more structured game of strategy, possession and systematically advancing the ball down the field.
In 1889, he began selecting an All-American team of the best players from around the country. He continued to personally select the players each year until his death in 1925. After that, the task was taken over by famed sports writer Grantland Rice, who enlisted the help of sports writers from all over the country to help him put together the annual list.
In 1905, football was such a rough game that 18 young men died as a result of injuries sustained while playing. Things were so bad the President Teddy Roosevelt called to The White House representatives from Yale, Harvard and Princeton as well as Walter Camp himself to talk about what could be done to make the game safer. Camp favored making the field wider, but Harvard rejected that idea because it had recently built the first concrete football stadium in the country and it simply could not accommodate a larger field. Instead, the forward pass was adopted, which spread the players out across the field and led to a more open style of play.
Walter Camp died on March 14, 1925, ironically while attending a football rules committee meeting. His place in football history is unequaled and I wanted to pay my respect by visiting his grave at the Grove Street Cemetery in New Haven. So my youngest son, Abram, and I recently made a trip to Connecticut to do just that.
The cemetery is located, obviously, on Grove Street, just a few blocks from the center of town. It is surrounded by an eight foot high stone wall. We parked around the corner on Ashmun Street, fed the parking meter, and walked to the entrance. When we entered the cemetery through the massive stone arch off Grove Street, I noticed a brick building that I assumed to be an office for the caretaker. The building was originally the cemetery chapel. The door was unlocked so I went inside. There was an elderly gentleman sitting at a desk and I asked if he could point me in the direction of Walter Camp's grave. He handed me a map of the cemetery then he stepped outside with me and pointed us in the right direction.
The cemetery is laid out in a grid pattern with easy to follow street names. To find Camp's grave you continue straight down Central Avenue from the main entrance, turn left on Myrtle Path then right on Sycamore Avenue. You will find his final resting place a short ways down the street on your left.
When we arrived at the grave site I was surprised to see two markers for him. One was old and gray, as I expected, but the other was shiny, black and looked very modern and new. It was commissioned by the Walter Camp Football Foundation and erected in 1992 to honor Camp.
Another famous person who also has a monument in the Grove Street Cemetery in big band leader, Glenn Miller. Miller was lost at sea when his plane went down over the English Channel on December 15, 1944. His military band had made New Haven its home in 1943 and was permanently stationed at Yale. It was known as the 418th Army Air Forces Band or the Yale Band. They traveled all over Europe performing and entertaining the troops during World War II.
On December 13, 1998, Peter Cofrancesco, a local resident and a huge Glenn Miller fan and collector, held a memorial service for Miller at the Grove Street Cemetery. He had purchased a plot in the cemetery with his own money and also paid for a black granite marker to honor Miller. I was interested to see this as well since I am from Kalamazoo, Michigan and one of Miller's big hits in the 1940's was a song called "I've Got a Gal in Kalamazoo."
Louis Lunch
Less than a mile from Camp's grave on Grove Street is another piece of New Haven history, a tiny establishment on Crown Street called Louis Lunch. It opened in 1895 and is recognized as the birthplace of the hamburger in 1900. I had seen it featured on food shows and travel shows in the past year and when I decided to visit the grave of Walter Camp, I knew that we had to have lunch there as well.
The menu, like the restaurant, is very small. They only do hamburgers, cheese burgers, chips, potato salad and drinks. The burgers are cooked in tiny gas ovens and the only condiments you can get are onions, tomatoes or both. Instead of buns, the burgers are served on toasted white bread, just like they were over 100 years ago. I wonder if Walter Camp ever ate there. My guess is that he must have at one time or another.
Before leaving new Haven, we also drove by the Yale Bowl, which opened in 1914. It is one of only four football stadiums in the country that is listed as a National Historic Landmark. The others are Harvard Stadium, the Rose Bowl and the Los Angeles Memorial Coliseum.
On our way back home to Michigan we stopped at the Pro Football Hall of Fame in Canton, Ohio. Currently, the facility is undergoing a massive renovation in preparation for its 50th Anniversary this fall. The renovations should be completed by June 1st.
The final stop on our trip was in Cleveland where we attended an Arena football game. We saw the Jacksonville Sharks defeat the Cleveland Gladiators 66-49. As we sat in our seats in Section 104, I couldn't help but wonder what Walter Camp would think of the game of Arena Football? When he died in 1925, the NFL was only in its fifth season and was not nearly as popular as the college game that he helped to develop. Would he enjoy the eight-man style game played on a 50-yard field indoors in the spring? We will never know, but one thing is for sure. Without Walter Camp, there would be no football, period. Thank you, Mr. Camp!
More Graves
Over the last several years I have taken it upon myself to track down and visit the final resting places of some of the most iconic figures in the world of football. So far I have stood by the grave of Knute Rockne in South Bend, Indiana, Jim Thorpe in Jim Thorpe, Pennsylvania, George Gipp in Calumet, Michigan and Vince Lombardi in Middletown, New Jersey. Trips planned in the near future include visiting the graves of Bronko Nagurski in International Falls, Minnesota and John Heisman in Rhinelander, Wisconsin.