The Graves of Leon Hart and Ara Parseghian
by Randy Snow
Original to www.theworldoffootball.com, Wednesday, January 20, 2021
During this global pandemic we have had to endure without many things, i.e., eating in restaurants, travelling and spending time with family and friends. But there is one activity that the pandemic has no effect on. Visiting cemeteries to find the graves of the football world's greatest players, coaches and owners.
It is the perfect pandemic activity because there is no one else around and it makes the football heroes you have only read about, become real.
Recently, I made the short trip from Kalamazoo to South Bend, Indiana. Specifically, I went to the campus of Notre Dame University and the Cedar Grove Cemetery.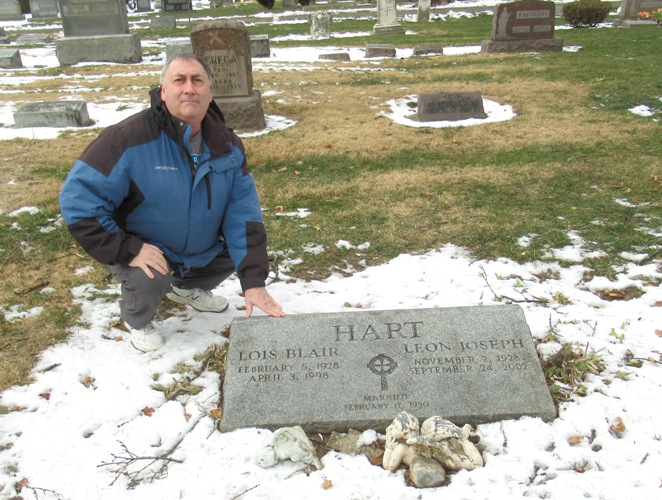 I have been grave hunting in South Bend before, visiting the final resting place of legendary Notre Dame head coach Knute Rockne back in 2006. Rockne is not buried on the Notre Dame campus, however, but in the Highland Cemetery on the northwest side of South Bend. This was the first football grave that I ever visited and it started me on a journey that has taken me to several states including Pennsylvania, Minnesota, Wisconsin, Illinois, Indiana, West Virginia, New Jersey, Connecticut, New York, Maryland, Texas, Ohio and, of course, Michigan, looking for the final resting places of football royalty.
With the help of the web site www.findagrave.com, I was able to locate the grave of Leon Hart, the 1949 Heisman Trophy winner. Hart played the end position at Notre Dame from 1946-1949. He was a part of three national championship teams in 1946, 1947 and 1949. He never lost a game at Notre Dame as the team posted a 36-0-2 record during his four years at the school.
Hart was the first overall pick in 1950 NFL Draft by the Detroit Lions. He played his entire eight-year pro football career in Detroit from 1950-1957, winning three NFL titles in 1952, 1953 and 1957. He was inducted into the College Football Hall of Fame in 1973.
Hart passed away in South Bend on September 24, 2002 at the age of 73.
Hart's stone is a simple one for a man who won a Heisman and three championships each in both college and professional football. It contains his name and his wife's name, Lois, their birth and death dates and the date they were married. A couple of small angel figurines are also placed on the ground in front of the stone marker.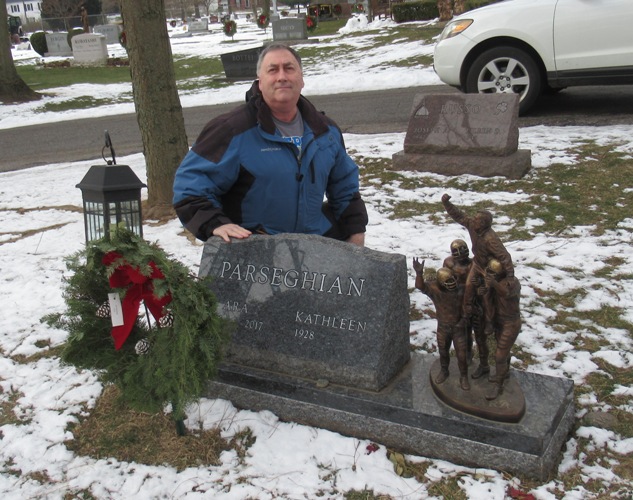 Not too far away from Leon Hart's grave is the final resting place of former Irish head coach Ara Parseghian. Parseghian played college football at Miami University, in Ohio, where he was a halfback. He also played professionally in the All America Football Conference (AAFC) for the Cleveland Browns in 1948 and 1949. He became the head coach at Miami University in 1951 and remained there through 1955. He posted a record of 39-6-2 at Miami and won back-to-back Mid-America Conference titles in 1954 and 1955.
Parseghian went on to be the head coach at Northwestern from 1956-1963. In his eight seasons leading the Wildcats, he posted a record of 36-35-1. The team never appeared in a bowl game.
Parseghian became the head coach of the Fighting Irish in 1964 and led the team for 11 seasons, through 1974. His record was 95-17-4. The team went 3-2 in bowl games and Parseghian won two college football national championships in 1966 and 1973. His final game at Notre Dame was in the Orange Bowl in Miami on January 1, 1975. Notre Dame defeated Alabama 13-11. After retiring from coaching, Parseghian went into broadcasting, working college games for ABC and CBS.
His combined record as a head coach at Miami of Ohio, Northwestern and Notre Dame (including bowl games) is 173-60-7.
Parseghian died on August 1, 2017 in Granger, Indiana at the age of 94. He was inducted into the College Football Hall of Fame in 1980. Today, there is a statue of him in the Cradle of Coaches Plaza at Miami (Ohio) University.
His headstone is easily recognizable as it contains a small statue of Parseghian being lifted onto the shoulders of three Notre Dame players on a football shaped base.
To Find the Graves
The address of the Cedar Grove Cemetery is 100 Cedar Grove Cottage, Notre Dame, Indiana 46556. It is on the corner of East Angela Blvd and North Notre Dame Avenue.
I recommend going to the cemetery web site www.cemetery.nd.edu and printing a copy of the cemetery map which can be found in the About Cedar Grove section. I did not see any signs in the cemetery that identified the sections, so the map was the only way I knew where the sections were located.
Leon Hart's grave is located in Section D, row 21.
Ara Parseghian's grave is in Section K. There is a short U-shaped drive behind the Our Ladies of Sorrow Mausoleum and Parseghian's grave is located on the inner part of the drive. The drive is not shown on the map, but the mausoleum is.