The Graves of Bob Ufer and Pete Elliott
by Randy Snow
Originally posted on Yahoo! Voices, Tuesday, June 3, 2014
In two previous articles, I recounted a recent trip I made to the Forest Hills Cemetery in Ann Arbor, Michigan. I visited the graves of two legendary University of Michigan head coaches, Bo Schembechler and Fielding Yost. But there are also two other famous U of M figures who are buried in that very same cemetery; longtime radio broadcaster Bob Ufer and former quarterback, Pete Elliott.
Ufer was the voice of Michigan football for five decades from 1945-1981. He had a unique broadcasting style and a real passion for the school and the team. In 1940, he was a freshman at U of M and was on the football team. He played on the same team with Tom Harmon, who would win the 1940 Heisman Trophy. His real passion at the time was track and Ufer switched sports and set a number of school track records during his college career.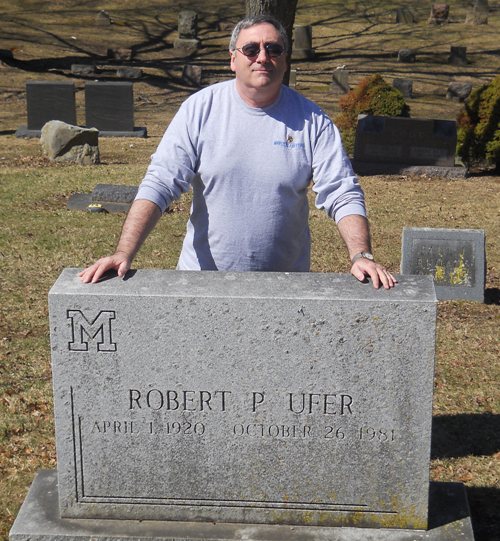 Ufer used to refer to Michigan coach Schembechler as Bo "George Patton" Schembechler because of the strict style of coaching he had with his teams. Patton was a World War II general who was also known for his demanding style of leadership and discipline. Patton's nephew, who lived in Chicago, heard about Ufer calling Schembechler George Patton and said he had in his possession, a horn that his uncle had used on his jeep during World War II. He asked if Ufer would like to have it and, of course, he absolutely did. Ufer would honk the horn during his broadcasts every time U of M scored.
In 1976, President Gerald R. Ford (a Michigan alum and former football player himself) asked Ufer to be the keynote speaker during the kickoff of his re-election campaign held at Crisler Arena on the school's campus.
When he wasn't calling football games, Ufer owned an insurance business in Ann Arbor.
Bob Ufer passed away on October 26, 1981 at the age of 61. He is buried just steps away from coach Fielding Yost in Section 8 PK in the northeast corner of the Forest Hills Cemetery.
If you never heard Bob Ufer call a game, you owe it to yourself to visit www.ufer.org and check out the free audio clips from some of his broadcasts. You can also see a picture of the George Patton jeep horn, as well as honk it yourself with the click of the mouse.
Another famous Michigan figure buried at Forest Hills is Pete Elliott. He played quarterback and running back for the Wolverines from 1945-1948. He helped lead the team to back-to-back undefeated seasons in 1947 and 1948.
His brother, Bump Elliot, also played halfback/wingback at Michigan and even shared the backfield with Pete. Their backfield, along with halfback Bob Chappuis, was known as the Mad Magicians. The three led Michigan to a 49-0 win over USC in the 1948 Rose Bowl. Bump, whose real name was Chalmers, went on to be the head coach at Michigan from 1959-1968 and he even led Michigan to a Rose Bowl victory over Oregon State 34-7 in 1965.
According to www.sports-reference.com, Pete Elliott went on to be the head coach at Nebraska in 1956, California from 1957-1959, Illinois from 1960-1966 and the University of Miami in 1973 and 1974. He led California to the Rose Bowl in 1959 but lost to Iowa 38-12. He also won a Rose Bowl in 1964 at Illinois with a 17-7 win over Washington. Elliott may be best known, however, for the many years he spent as the executive director of the Pro Football Hall of Fame in Canton, Ohio from 1979-1996. He oversaw a major renovation of the Hall in 1995.
Pete Elliot was inducted into the College Football Hall of Fame in 1994. He died on January 4, 2013 at the age of 86. His grave is in Section 40 along Geddes Avenue. Bump Elliott, who is still alive, was inducted into the College Football Hall of Fame in 1989.
For many years, Michigan students and fans have been visiting the Forest Hills Cemetery on the eve of the annual Michigan-Ohio State game to pay their respects to Wolverine legends Schembechler, Yost, Ufer and Elliott. All four men left their mark on the university and all will forever be remembered for their place in college football history.