For football fans in the United States, the wait is almost over. The NFL preseason is right around the corner and the high school and college football seasons will soon follow.
But just north of the border, in Canada, football season began back in June. That was when the eight-team Canadian Football League kicked off its two-game preseason schedule. The regular season began on June 28. If you have a satellite dish or cable, you may have access to some CFL games, either live or on a tape delay basis.
First and foremost, I am a football fan and Canadian football is a great product. You might be surprised to find out that several familiar names from the U.S. are currently playing in the league. Players like QB Mike McMahon (Toronto), QB Akili Smith (Calgary), QB Eric Crouch (Toronto), RB Jarrett Payton (son of Walter-Montreal), QB Damon Allen (brother of Marcus Allen-Toronto) and QB Timmy Chang (Hamilton).
A few weeks ago I was looking at the Hamilton Tiger-Cats schedule and decided to take my two youngest sons, ages 13 and 10, to a game on August 3rd. It was a Friday night game against the Winnipeg Blue Bombers. I was looking forward to seeing Hamilton's famed Ivor Wynne Stadium for the first time.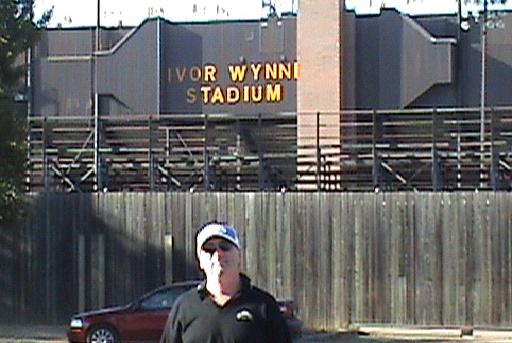 Hamilton is a blue collar steel town on the southern shore of Lake Ontario, between Toronto and Niagara Falls. The city of Hamilton is also home to the Canadian Football League Hall of Fame.
It took about 6 hours to drive from our home in Kalamazoo, Michigan to Hamilton, Ontario. We got an early start that day and arrived at the Hall of Fame around 2:30 in the afternoon. It cost just $5.00 for the three of us to tour the small, but fascinating facility.
There are 155 players enshrined in the Hall along with 64 "builders" (coaches and owners). One player you might recognize is quarterback Warren Moon, who played for the Edmonton Eskimos from 1978-1983 and won five straight Grey Cup championships. He is the only player to be inducted into both the Canadian Football and Pro Football Hall of Fame. He was enshrined in the Canadian Football Hall of Fame in 2001 and the Pro Football Hall of Fame in 2006.
Another recognizable name is Coach Bud Grant. He played for the Winnipeg Blue Bombers from 1953-1956 and then coached the team from 1957-1966. He led Winnipeg to four Grey Cup championships before becoming head coach of the NFL Minnesota Vikings in 1967. He was enshrined in the Canadian Football Hall of Fame in 1983 and the Pro Football Hall of Fame in 1994.
The five new members of the Class of 2007 will be inducted into the Canadian Football Hall of Fame next month over the weekend of September 12-15. One of the new members is Darren Flutie, the brother of Doug Flutie. Darren played wide receiver for the British Columbia Lions, Edmonton Eskimos and Hamilton Tiger-Cats during his CFL career that ran from 1991-2002.
While we were touring the Canadian Football Hall of Fame, I asked a girl who worked there if she knew where we could get tickets to the Tiger-Cats game that night. I could have purchased tickets online before we left home, but I knew that the team was 0-5 on the season and I took a chance that we would be able to get tickets once we got to Hamilton. She said she thought they had some tickets in the office and went to look for them. When she returned she handed me three tickets to the game. When I asked her how much I owed her, she said that they were free! The tickets were in Section 9 on the north side of the stadium, right on the goal line.
After we left the Hall of Fame, we checked into a motel and had dinner. We then drove to the stadium. Ivor Wynne Stadium was originally built in 1930 and currently seats 29,600. It is located in the heart of a residential area in downtown Hamilton. I found only a few small parking lots around the stadium, charging $20 to park. Most people just parked on the streets or in people's yards.