Book Report: I've Got Things to Do with My Life
by Randy Snow
Originally posted on AmericanChronicle.com, Thursday, March 5, 2009
During World War II, it was not uncommon for NFL players to leave the league, join a branch of the service and spend a few years fighting for Uncle Sam. Many of them returned to continue playing football once their enlistments were up. But that was then. Today, serving one's country takes a back seat when million dollar NFL contracts are on the line. That's why the story of Pat Tillman is so remarkable. To me, he is a true American Hero.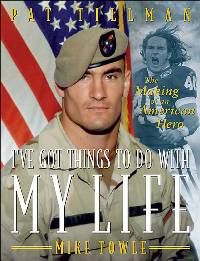 In the 2004 book, I've Got Things to Do with My Life - Pat Tillman: The Making of an American Hero, author Mike Towle tells the extraordinary story of a man who never took the easy road to get where he wanted to go. The book was written in the weeks following Tillman's death. His family was not speaking publicly at the time and they did not participate in the writing of the book. This is one of those books that was quickly put together and rushed into bookstores as events were still unfolding, so many of the facts surrounding Tillman's death were not known at the time. The book's main contribution is in the telling of Pat's life story.
Tillman grew up in San Jose, California and attended Leland High School. After a season on the freshman squad, he was invited to play on the varsity team as a sophomore. He played fullback on offense, was a linebacker on defense and he also returned punts and kickoffs on special teams. In his senior year, he ran for 623 yards and had 14 rushing touchdowns. He also had 27 receptions and 12 receiving touchdowns and even returned three kicks for touchdowns. He accounted for a combined total of 31 touchdowns in 1993. On defense, he had 110 tackles, 10 sacks and three interceptions. He graduated from Leland High School in the spring of 1994. Tillman was an undersized player by college football standards, so he received offers from only three colleges; BYU, San Jose State and Arizona State.

Tillman chose to attend Arizona State University because he wanted to play in the PAC-10 Conference. He was a tough kid who, at times, let his aggressions get the better of him off the field. In the summer of 1994, at the age of 17, Tillman spent 30 days in a juvenile detention center in San Jose for getting into a fight. He was released just two weeks before heading to ASU to attend fall football practices prior to his freshman year.

He had to prove himself to his college coaches and he worked hard in practice, earning a starting spot on the team. In 1996, Tillman's junior season at ASU, the Sun Devils finished with a perfect 11-0 record and were ranked #2 in the nation. The team went on to play Ohio State in the Rose Bowl on January 1, 1997, but lost 20-17. The team finished the season at #4 in the final college football poll.

In his senior year, ASU posted an 8-3 record and went on to beat Iowa 17-7 in the Sun Bowl. Tillman, who played linebacker, was named the Pac-10 Defensive Player of the year. He graduated summa cum laude from ASU in December 1997 with a degree in marketing after just three and a half years. His grade point average was 3.84.

Tillman was then selected in the seventh round of the 1998 NFL draft by the Arizona Cardinals. He signed a contract for around $375,000 and began the process of proving himself all over again. One of his Arizona State teammates, quarterback Jake Plummer, had been drafted by the Cardinals the year before. At the time, the Cardinals played their home games in ASU's Sun Devil Stadium, so Tillman and Plummer merely went from playing there on Saturdays to playing there on Sundays.

He started out as a special teams player, but after a strong performance in the preseason, Tillman became a starter at safety. The Cardinals had posted a 4-12 record in 1997, before Tillman joined the team, but they made the playoffs in 1998 for the first time in 15 years. They even defeated the Dallas Cowboys 20-7 in the first round of the playoffs before losing to the Minnesota Vikings 41-21 the following week.

Tillman was with the Cardinals for four seasons, signing one-year contracts each year that topped out at around $500,000. Prior to the 2001 season, he was reportedly offered a contract by the St. Louis Rams worth $9 million over five years, but resigned with the Cardinals.
The events of September 11, 2001 had a profound affect on Tillman. After the 2001 season was over, the Cardinals offered Tillman a three-year contract worth $3.6 million, but he never got around to signing it.

He married his high school sweetheart, Marie Ugenti, on May 4, 2002. They honeymooned in Bora Bora and when he returned, he informed Cardinals head coach Dave McGinnis that he was quitting the NFL to join the Army. His brother, Kevin Tillman, was also quitting his minor league baseball career to join the Army as well.

In order to avoid all the publicity that was running rampant in Arizona over his decision to leave the NFL, the Tillman brothers traveled to an Army recruiting station in Denver and enlisted for three years. But they weren't just joining the Army, they wanted to be the best. They wanted to become Army Rangers.

The Tillman's began Basic Infantry Training in July 2002 at Fort Benning in Georgia. By December 2002, they had been permanently stationed at Fort Lewis in Washington state. Just two months later, they were both sent to the Middle East for three months.

In late September of 2003, the Tillman brothers began the nine-week Army Ranger School at Fort Benning. They were a part of the same class, but assigned to different companies. The last three weeks of the course is conducted at Eglin Air Force Base in Florida and they completed their training on November 23, 2003. They then returned to Fort Lewis.

In December 2003, the Arizona Cardinals traveled to Washington for a game against the Seattle Seahawks. Tillman was invited to join the team for a pre-game meal, which he accepted. He also visited the team in the locker room after the game. It would be the last time that his former teammates would ever see him.

Tillman was sent overseas for a second time in early 2004, this time to Afghanistan. He was killed on April 22, 2004 as a result of friendly fire in the Khost Province of Afghanistan.

Pat Tillman never sought any publicity for joining the Army. In fact, he went out of his way to insure that he was not singled out for serving his country. We need more people in the world today like Pat Tillman.

The title of the book comes from something that Tillman said to ASU head coach Bruce Snyder when Snyder wanted to red shirt Pat in his freshman year. This would have given him a fifth year of college football eligibility. Tillman told Snyder that he only planned to be as ASU for four years and no more because, "I've got things to do with my life," he said.

Today, a bronze statue of Tillman stands outside of the Arizona Cardinals new stadium in Glendale. Tillman was inducted into the stadium's Ring of Honor in 2006 and a pedestrian walkway outside the stadium is known as the Pat Tillman Freedom Plaza. His number 40 has been retired by the Cardinals and his number 42, which he wore in college, has also been retired by Arizona State University.

Following his death in 2004, Tillman's family and friends established the Pat Tillman Foundation. The foundation supports three main programs; The National Veterans Scholarship Fund, the Tillman Scholars Program at Arizona State University and The Collegiate Fund for Social Action.

In February 2005, with the help of a $250,000 donation from the NFL, the USO opened the Pat Tillman Memorial USO Center at Bagram Air Base in Afghanistan.

In 2008, Tillman's mother, Mary, published a book titled, Boots on the Ground by Dusk: My Tribute to Pat Tillman.

Links

Walk For Pat.org – Rory Fanning, who met Tillman while he was in the Army, is walking across the country to raise $3.6 million for the Pat Tillman Foundation.

The Pat Tillman Foundation