Book Report: Night Train Lane
by Randy Snow
Originally posted on AmericanChronicle.com, Saturday, February 6, 2010
In the 2000 book, Night Train Lane, author Mike Burns tells the story of NFL Hall of Fame defensive back Dick "Night Train" Lane. Appropriately, I purchased this book a few years ago in the gift shop at the Pro Football Hall of Fame in Canton, Ohio.
Richard Lane was born in Austin, Texas in 1928. His birth mother, Johnny Mae King, was a prostitute and his father was her pimp. At the age of three months, his mother left Richard in a dumpster behind a row of houses on East 9th Street. Ella Lane, who lived in one of those houses, heard Richard crying in the dumpster and rescued him. She was a widow with two children of her own, but she adopted the baby and made him a member of her family. It was not until about the age of 11 that Lane learned the truth about his birth mother, Johnny Mae.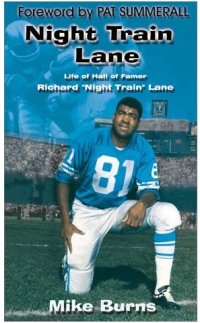 Lane attended Anderson High School, an all-black school in Austin, and participated in basketball, track and football. In 1945, Lane's junior year, the football team made it to the state finals, but lost in the championship game.
It was while Lane was in high school that he learned that Johnny Mae had shot and killed his father (her pimp) in his sleep after he had beaten her. She spent several years in prison for the murder. After she was released, she moved to Scottsbluff, Nebraska, got married and opened a tavern. When Lane graduated from high school in the spring of 1947, she asked him to come up for a visit, which he did.
Scottsbluff was a predominantly white town, which was a new experience for Lane. Johnny Mae suggested that he move up there and attend Scottsbluff Junior College. She told her son that she would pay his tuition at the school.
While playing in a pickup baseball game that summer at Scottsbluff, Lane was seen by a scout from the Kansas City Monarchs of the Negro National Baseball League. He agreed to play for one the team's minor league affiliates, the Omaha Rockets. He had to play under the name Richard King so he would remain eligible to play college football.
While he was playing baseball for the Rockets that summer, he received word that his mother in Austin needed to see him right away. Lane immediately took a train to Austin and found the woman who had raised him to be very ill. She passed away a few days later.
When classes started at Scottsbluff in the fall of 1947, Lane easily made the football team as a freshman. He was also the only black player on the team. He was so good the he was even offered a full scholarship to the school, but Johnny Mae insisted on paying for her son's education herself.
Lane helped lead the team to a 5-2-1 record that year and he was named a Junior College All-American. But soon after, he found out that Johnny Mae was working the streets again as a prostitute. Lane was furious. He quit school and joined the Army.
He went through basic training at Fort Knox, Kentucky in the winter of 1948. He served in the Army for four years and attained the rank of corporal. Lane was stationed at Fort Ord in Monterey, California where he played baseball, basketball and football on the base.
After he left the Army in 1952, he had a tryout with the defending NFL champions, the Los Angeles Rams. Soon after, he signed a $4,500 contract to play for the Rams.
It was during the early days of training camp with the Rams that Lane received the nickname of Night Train. Every night, Lane would go to the room of wide receiver Tom Fears and ask for help learning the plays in the playbook. Fears would be listening to the same blues song every night when Lane arrived, Night Train by Buddy Morrow. Lane didn't like it at first, but the nickname stuck.
During his rookie season with the Rams (1952), Lane set an NFL record with 14 interceptions during the 12-game regular season. (That record still stands today) But, after only two seasons in Los Angeles, he felt unappreciated by the coaching staff and underpaid for what he had accomplished on the field, so he asked to be traded. Lane was traded to the Chicago Cardinals and he played there from 1954-1959. His six years in the Windy City were not very happy ones. The Cardinals only had one winning season while he was there and his 11-year marriage ended in divorce.
Then, in 1960, Night Train Lane was traded to the Detroit Lions. He had his most productive years in the Motor City. He got married again, but it didn't last long. The marriage did however produce his only son, Richard, Jr.
In 1963, Lane married once again, this time to recording artist Dinah Washington. She was known as the Queen of the Blues and had many records on the blues charts. Lane's best man at the wedding was NBA star Wilt Chamberlain. Time Magazine even covered the wedding. Tragically, Dinah died less than a year later at the age of 39. It is believed that a combination of diet pills and alcohol were the cause.
A knee injury that required surgery slowed Lane down towards the end of his playing career. He was release by the Lions during the 1966 preseason. Detroit owner William Clay Ford hired Lane to be his special assistant after he was released. He remained in the position for seven years and was involved with player contracts, player disputes and he was Ford's liaison between the front office and the team.
In 1972, Lane took a job as the defensive coordinator at Division I-AA Southern University in Baton Rouge, Louisiana. That job only lasted one year and in 1973 he became a defensive coach at Division II Central State University in Wiberforce, Ohio. His goal was to coach in the NFL, but it never worked out.
Lane had met comedian Redd Foxx while he was playing for the Los Angeles Rams. After his brief college coaching career, Foxx hired him to be his road manager and body guard. He spent about a year doing that and then returned to Detroit where he was in charge of the city's Police Athletic League youth athletics programs for many years.
Night Train Lane was inducted into the Pro Football Hall of Fame in 1974. He also played in six Pro Bowls. His technique of tackling ball carriers by wrapping his arms around their necks was known as the Night Train Necktie. It was eventually outlawed by the NFL.
Pat Summerall, who was a teammate of Lane's on the Chicago Cardinals team during the 1950's, wrote the forward of the book.
Sadly, Lane died of a heart attack on January 29, 2002 at the age of 73. He had spent the last few years of his life in an assisted living facility in Austin, Texas. In spite of all the tragedies and hardships he endured throughout his life, Dick "Night Train" Lane will always be remembered as one the greatest players ever in the NFL.
LINKS
Lane's Pro Football Hall of Fame page