Past Time - A Book Review
by Randy Snow
Original to www.theworldoffootball.com, Sunday, June 19, 2016
In his 2015 book, Past Time: Simulation Football Leagues, Living in the Past, and Learning to Love Football Again, author Ted Kluck explores a side of football that I was not aware of.
As lifelong football fans, we sometimes find ourselves pining for what we consider to be, the good-old days. I personally began following the NFL in the mid-1970s as a teenager and I still remember many players from that era with great fondness. Especially those players from my home-state team, the Detroit Lions. There was quarterback Greg Landry, running backs Dexter Bussey and Horace King, tight end Charlie Sanders and defensive back Lem Barney.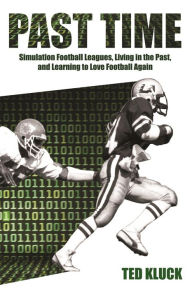 Kluck has found a way to relive the experience of 1970s football by competing with others in something called the Odyssey Football League, an online simulation league where players are drafted from a certain year, teams are built and games are played against other teams that are put together the same way. In this case, Kluck and the other members of the OFL replayed the 1978 NFL season using actual players from that year. An algorithm is run to simulate plays and games using the player's actual stats from that season.
As an OFL team owner/head coach/general manager, Kluck got to experience drafting players, trading players and calling plays during games. I found the insights that he shared in the book to be quite interesting. With the hindsight of many past NFL Drafts and his analysis of past draft publications, Kluck paints a picture on how drafts have been conducted over the years and how the media has a major influence on who and where players are selected. He also offers a rethinking of how this process should really be carried out that makes a lot of sense.
While Kluck's OFL team was called the Detroit Lions, he played against teams with names like the Duluth Dragons, Montreal Alouettes, Concord Colonials, Midway Monsters and Montana Grizzlies.
But the book is much more than just his experience coaching and building an OFL team online. He makes many observations throughout the book about the state of football today and what is was like to be a fan in a simpler time. Back before the Internet and 24-hour channels like ESPN and the NFL Network. That part resonated with me because I remember those times and I do feel that, somehow, we have lost something. Today, we are inundated with way too much information.
Kluck is also dead-on when he talks about how football is a bond between fathers and sons. His father supported him when he played and they attended many games together. His young son helped him coach some of the OFL games online and that is something they shared together. I too recall watching games with my father and my sons have all traveled with me to NFL, CFL, Arena, high school and college football games.
I found the book very interesting. Kluck talks about many past NFL players that I actually remember watching play over 30 years ago. Some I had completely forgotten about until I read their names in the book. It brought back a flood of football memories that I really enjoyed reliving.
The cover of the book is a bit misleading, however. It shows a couple of USFL players from the 1980s, one from the New Jersey Generals and the other from the Los Angeles Express. As a huge USFL fan, the cover is what first drew my attention to the book in the store, so I was thinking it was about the USFL. Instead, the book took me on an entirely different and enjoyable, yet unexpected, journey down memory lane.
About the OFL
The OFL has replayed over 20 simulated seasons and the championship game is called the Odyssey Bowl. To learn more about the league, visit www.odysseyfootball.com.