Roger Brown's Restaurant & Sports Bar
by Randy Snow
Originally posted on Yahoo! Voices, Monday, July 9, 2012
Life after pro football can be challenging for many former players. But for one of the original members of the Los Angeles Rams' Fearsome Foursome, the taste of post-football success is very good.
In the Virginia seaport town of Portsmouth, which is located right next to Norfolk and Virginia Beach, is Roger Brown's Restaurant & Sport Bar. The restaurant opened in November 2000 and has been a local landmark ever since.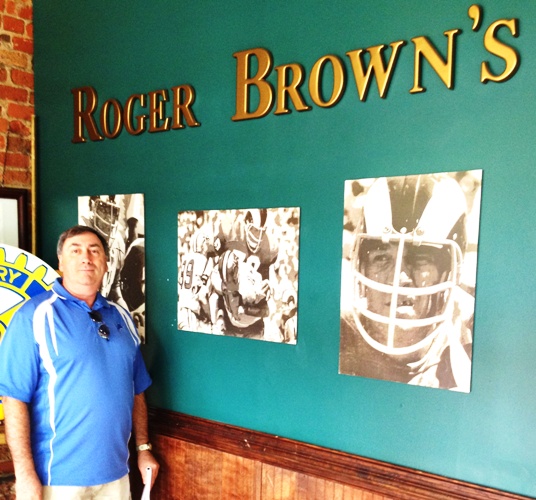 Roger Brown was a defensive tackle and played college football at the University of Maryland-Eastern Shore. He was drafted by the Detroit Lions in the fourth round of the 1960 NFL Draft. He played on a defensive line in Detroit along with Alex Karras, Darris McCord and Sam Williams. Following the 1966 season, Brown was traded to the Los Angeles Rams for three draft choices. He was an original member of the Rams' famed Fearsome Foursome defensive line that also featured Deacon Jones, Merlin Olsen, Lamar Lundy and Rosie Grier. Brown retired as a player after the 1969 season. He wore #76 in Detroit and #78 in Los Angeles. After his playing career was over, he tried his hand at professional wrestling for a while in the 1970's.
During the 60's and 70's, several teams used the Fearsome Foursome nickname to describe their defensive lines including the San Diego Chargers of the American Football League as well as the New York Giants and Detroit in the NFL. However, the Los Angeles Rams version of the foursome was the most well known of them all.
I recently traveled to Virginia with my brother and two of my sons to visit relatives just before the Fourth of July. Being a Lions fan from Michigan, I also had to make the trip to Portsmouth to experience Roger Brown's restaurant for myself.
As we got near Portsmouth, I realized that the restaurant would not even be open by the time we got there (it opens at 11AM daily) so we started looking for something to do until then. My brother pulled out the Atlas (yes, people still use them) and saw the Chesapeake Bay Bridge-Tunnel. He remembered driving across it many years ago when he and his wife were in the area. When he explained what it was, we had to see it for ourselves.
The Chesapeake Bay Bridge-Tunnel is 17.6 miles long and connects the Virginia Beach/Norfolk areas with the Eastern Shore of Virginia, across the Chesapeake Bay. Construction began in September 1960 and it took just 42 months to complete. It opened on April 15, 1964. There was not just a bridge that needed to be built, but also four man-made islands and two one-mile long tunnels under the bay. In 1995, due to increased traffic demands, construction began on a second series of parallel bridges that would connect to the existing man-made islands and tunnels. That project was complete in 1999.
The drive across the bridge was incredible. It cost us $12.00 to make the crossing and just $5.00 for the return trip once we showed our receipt from the first crossing.
It was now after 11AM so we headed for Roger Brown's. Our GPS system (I call her, Emma, based on the British woman's voice) took us right to 316 High Street. We drove around the corner and parked on a side street. At first I thought we were going the wrong way down a one-way street because all of the parked cars were pointing at an angle in the opposite direction. Then I noticed a sign the said, "Back in Parking Only," so I backed into a spot just like everyone else had done.
When we walked in, I was surprised at just how big the place is. According to their web site, it is 1600 square feet with an additional outdoor patio that seats 60 people. There was a huge bar at the front of the restaurant, lots of tables and booths in the middle and four large flat screen TV's along the back wall. Out hostess took us all the way to the back and seated us directly in front of the TV's.
As I looked over the menu, I was torn between choosing then Fearsome Foursome Club Sandwich or the Marinated Flank Streak that a friend of mine, who had been there before, had recommended. I chose the flank steak and I was not disappointed. It was fantastic! It came with mashed potatoes and collard greens. I had never had collard greens before, but they were a great addition to the meal. My brother got a crab cake sandwich and my youngest son had a cheese burger and fries. My older son had the Fearsome Foursome Club. We all enjoyed lunches very much.
There is also a large billiards and video game room farther back in the restaurant. As you would expect, there is memorabilia throughout featuring Browns career. There is even a full size Detroit Lions helmet signed by Barry Sanders.
One of the larger displays in the restaurant was a framed movie poster from the 1968 movie, "Paper Lion," starring Alan Alda and Lauren Hutton. The movie is based on the 1965 book of the same name by George Plimpton, who attended Lions training camp in 1963. Many actual Detroit Lions players appeared as themselves in the film, including Roger Brown.
Unfortunately, Roger Brown was not there that day. It would have been nice to meet him in person and to interview him for this article. The next time I am in the area, I will definitely be stopping by again!
Trip Side Note #1
While we were having lunch at Roger Brown's, one of the TV's was on a channel that was reporting that actor And Griffith had died. Everyone is familiar with his television shows Matlock and The Andy Griffith Show, but ironically, Griffith became famous in 1953 for a comedy routine about a southern man seeing a football game for the first time and not knowing what it was. The routine was called, "What it Was, Was Football," and the record sold 900,000 copies. It was that comedy record that launched Griffith to stardom.
Trip Side Note #2
Roger Brown's Restaurant is located in Portsmouth, Virginia. The Detroit Lions, who Brown played for from 1960-1966, were originally the Portsmouth Spartans in Portsmouth, Ohio from 1930-1933. The team moved to Detroit in 1934 and was renamed the Lions by new team owner, George A. Richards.
Trip Side Note #3
Roger Brown was traded from the Lions to the Rams during the filming of the movie, "Paper Lion."
Trip Side Note #4
Brown is no stranger to the restaurant business. After his playing career, he owned a restaurant in Chicago for a while and later owned three McDonald's before he opened his current restaurant in his hometown of Portsmouth, VA.