Book Report: Still Kicking
by Randy Snow
Originally posted on AmericanChronicle.com, Sunday, May 24, 2010
It is not easy for a woman to compete in a man's sport, but if you are passionate about something, it will carry you a long way. In her 2006 book, Still Kicking, Katie Hnida tell the story of how she became the first woman to play and score points for a NCAA Division 1-A football team.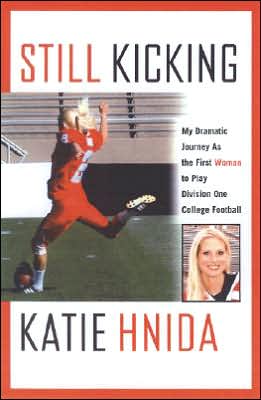 Hnida grew up in Littleton, Colorado, a suburb of Denver, and is the oldest of four children. Soccer was her main sport while growing up but she suffered a tear in her left quadriceps muscle at the age of 13 and her soccer dreams were put on hold. She then discovered, while playing around in her back yard, that she had quite a knack for kicking a football.
In 1995, she signed up to be the kicker on the freshman football team at Chatfield High School. She impressed the coaches so much that, not only did she become the starting kicker on the freshman team, but she was also the backup kicker on the varsity team that season as well. During her freshman year she kicked over 40 extra points.

In April of 1996, Hnida, her father and brother, Joe, attended the University of Colorado Fan Appreciation Day that was held in conjunction with the annual spring football game. Hnida got the opportunity to kick several field goals on the field and was noticed by Colorado head coach Rick Neuheisel. He was impressed with the 14-year-old girl kicker and her ability as a kicker.
As a sophomore, Hnida was the starter on the JV football team and remained the backup kicker on the varsity squad. She also began kicking field goals that year. In her junior year, she became the starting kicker on the varsity football team.

Prior to her senior season, Hnida attended a three-day kicking camp held at the University of Colorado. Again she impressed everyone there when she kicked a 48-yard field goal on the final day of the camp.

She was voted homecoming queen during her senior season in 1998 and there is a great picture in the book of her wearing her Homecoming Queen sash over her football uniform during the halftime ceremony at the Homecoming football game.
In January of 1999, Colorado football coach Rick Neuheisel announced that he was leaving the school to become the head coach at Washington State. Hnida had lost the one person at the school who truly believed that she would make a fine addition to the football team. Shortly after Neuheisel's departure, he was replaced by Gary Barnett. However, Hnida was still invited to join the Colorado football team as a walk-on, mainly because she still had the support of the school's athletic director.

As her senior year in high school was winding down, the town of Littleton was brought to national attention when two students opened fire and killed 25 other students at Columbine High School. Hnida knew many students there due to its close proximity to Chatfield High School. The school was so badly damaged from the shooting that Columbine students had to finish the school year at Chatfield. Hnida even had to endure attending the funeral of one of her friends who was killed at Columbine on the same day as her prom.
Hnida joined the Colorado football team as a walk on in the fall of 1999. She was the fourth kicker on the team depth chart. She practiced daily with the other kickers and got to dress for some home games but never saw any playing time on the field. About half way through the season she came down with mono and missed a couple weeks of practice. Colorado finished the regular season with a 6-5 record and was invited to play in the Insight.com Bowl in Tucson, Arizona on December 31, 1999. They defeated Boston College 62-28. Although she did not play at all in the regular season or in the bowl game, Hnida made history simply by becoming the first woman to suit up for a college bowl game.

That first season at Colorado was a nightmare for Hnida. While most of her teammates were supportive of her presence on the team, she was sexually and verbally abused by a small group of her teammates. She was fondled, groped, and even pursued by an anonymous stalker, who was not on the team. In the summer of 2000, she was raped by a teammate that she had trusted.
Just before school began in the fall of 2000, Coach Barnett called Hnida into his office. He told her that she would have to compete with two new kickers if she wanted to remain on the team that season. She had also just been told by a doctor that she needed surgery on her tonsils and was in no condition to compete for a spot on the team. She had always felt that Coach Barnett never want her on the team in the first place because he had "inherited´ her form Coach Neuheisal. She realized that her time at Colorado was over and she asked for an athletic transfer. Because the school year was about to start, she did not have time to find a new school and would miss not only the 2000 football season, but the 2001 seasons well. NCAA rules stipulate that a Division I athlete had to sit out a full 12 months after transferring to another Division I school before they could compete in sports at that school.
Hnida remained at Colorado that year, even though she was not on the football team. She wanted to maintain a low profile. She simply attended her classes and then returned to her dorm room. She then decided that if she attended a junior college (one that had a football team) she could get back on the football field right away while she looked for a new Division I school to play for.

She chose to attend Santa Barbara City College, which at the time was a member of the California Community College Athletic Association. However, once she got back on the field and began kicking, she kept having flashbacks in her head of the ordeal she went through at Colorado. She simply could not bring herself to play for the team. She spent the next year attending classes there while getting counseling to cope with what had happened at Colorado. Later that school year, she began sending out videos of her high school kicking highlights to Division I schools.

She received interest from several Division I schools and then narrowed the list down to four possible schools; Ohio State, Auburn, New Mexico and California-Berkley. After visiting each school, the best fit turned out to the University of New Mexico Lobos.

New Mexico turned out to be a much better fit for Hnida, who was accepted whole heartedly by the coaching staff and, more importantly, all of her teammates. The Lobos finished the 2002 season with a 7-6 record and was invited to play UCLA in the Las Vegas Bowl on Christmas Day. Though she had not attempted an extra point or a field goal during a regular season game at New Mexico, she was given the opportunity to kick the first extra point in the bowl game. Her kick, unfortunately, was blocked.

She got a second chance at history on August 30, 2003 during the opening game of the season when she kicked two extra points in a win over Texas State, becoming the first woman to score points in a Division I football game.

Meanwhile, back at Colorado, several women had come forward saying that they had been sexually assaulted by members of the football team. Hnida decided that the time had come to finally go public about how she was treated while at the university as well. She was interviewed by Rick Reilly, who had known Hnida since her high school days, and the article appeared in the February 17, 2004 issue of Sports Illustrated magazine. Coach Barnett was suspended the next day. In all, a total of 12 women, including Hnida, came forward and three women even filed a lawsuit against the university. (Hnida was not one of them)

After an investigation by the school, Coach Barnett was reinstated a few months later by the Board of Regents and the lawsuit was eventually dismissed in court in April 2005. Following the 2005 season, the remaining two years of Barnett's contract was bought out and he was let go.

Hnida remained on the New Mexico team through the 2004 season, but never played in a single game that year. She was simply happy to be a part of the team and was grateful for the friendships she had made with the coaching staff and players in New Mexico.

Most people would have quit after having endured what Katie Hnida went though in her first year in Colorado. But her love of football and the desire to be part of a football team was too strong to allow her to take the easy way out. In the end, she accomplished what she wanted to do and made many friends and supporters along the way.

POSTSCRIPT TO THE BOOK

Since the book was published in 2006, Hnida went on to kick for the Colorado Cobras, a semi-pro football team, in 2009. She also appeared in the first two games of the 2010 season for the Fort Wayne Firehawks of the Continental Indoor Football League. She was 1 of 4 on extra points. She was released by the team just last week due to blood clots in her leg which caused her to miss several games.

LINKS

University of New Mexico profile page on Hnida

Highlights of a Fort Wayne Firehawks game on YouTube featuring Hnida