Book Report: The Gipper
by Randy Snow
Originally posted on AmericanChronicle.com, Tuesday, December 28, 2010
In the new book, The Gipper, author Jack Cavanaugh tells the life story of George Gipp, the legendary Notre Dame player whose name will forever be synonymous with another college football legend, Knute Rockne.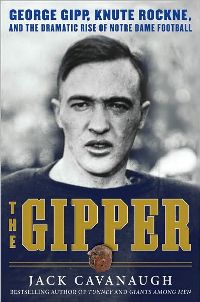 Gipp grew up in the small town of Laurium, Michigan, which is located near the top of the Keweenaw Peninsula of Michigan's Upper Peninsula. He was not a great student in high school and because of his poor grades he was not allowed to participate in any high school sports after his freshman year. In fact, he did not even graduate from high school. He worked several jobs in the area including driving a taxi cab and working for a local mining company driving a truck, but he also spent a considerable amount of his time playing cards and shooting pool for money. He was actually quite a good gambler and was able to supplement his income quite nicely.

When it came to sports, his favorite was baseball. He played in various summer leagues and on semi-pro baseball teams in the Laurium area, which got him noticed by Jesse Harper, the athletic director at Notre Dame. Harper was also the school's football and baseball coach at the time and extended an invitation to Gipp to come and attend Notre Dame to play college baseball. He was reluctant at first, but he finally decided to attend college in 1916 at the age of 21.

About a month after starting the fall semester at Notre Dame, he was helping out a fellow student who was on the freshman football team. Gipp, who was in his street clothes and dress shoes, was punting and drop-kicking footballs in excess of 50-yards to the football player, so that he could practice fielding the ball. Assistant varsity football coach Knute Rockne happened to be passing the field and marveled at Gipp's ability to kick the ball. He introduced himself to Gipp and invited him to come to freshman football practice the very next day. Gipp did and astonished everyone with his elusive running ability as well as his kicking skills.

In no time, he was named captain of the freshman football team. The freshman season consisted of only three games in 1916. However, in a game in Kalamazoo, Michigan at Western State Normal College (which is today known as Western Michigan University), Gipp made a name for himself when he disobeyed his coach's order to punt the ball on fourth down and instead, drop-kicked a 62-yard field goal that won the game for Notre Dame. The play made national sports news and brought attention to Gipp and Notre Dame.

Gipp could do it all on the football field. Like many players of that era, he could run, pass, play defense and drop kick extra points and field goals. His primary position, however, was halfback.

The following spring, when the Notre Dame baseball team was getting ready for the season, Gipp showed up for the first day of practice, but never went back again.

In August of 1917, Gipp received notice that he had been drafted by the military. World War I was going on in Europe and many young men were being called to serve their country. It is unclear why, but Gipp was never officially excused from military service, but he never did serve in the military either. He wound up returning to Notre Dame.

The following year, Gipp played on the varsity football team for Coach Harper and Assistant Coach Rockne. He actually showed up a month late for the start of fall classes and missed a couple of football games at the start of the 1917 season. His season also ended early as well when he broke his leg in a game at Morningside College.

Jesse Harper resigned as head football coach at Notre Dame after the 1917 season and Knute Rockne took over as head coach. Due to a worldwide flu pandemic in 1918, (a.k.a. the Spanish Flu in the United States) many schools cancelled games at the last minute because they could not field enough healthy players. Some schools even cancelled their entire football season. Also, many college age players had been drafted and were away serving in the military at that time. Because of the flu pandemic, it was determined that the season would not count against a player's eligibility, which meant that those who did play in 1918 would get an extra year of college football eligibility if they wanted to take advantage of it. At the time, players only had three years of eligibly at the varsity level and one year on the freshman team.

The first four games of Notre Dame's 1918 season were cancelled, so the first game of the season was actually played on November 2 at Wabash College. The game was hastily arranged the day before when Nebraska abruptly cancelled the home game against Notre Dame.

World War I officially came to an end a little over a week later on November 11, 1918. Many returning soldiers went back to school and resumed playing football.

One player that shared the backfield with Gipp in 1918 was Curley Lambeau, the man who would go on to be the founder of the NFL's Green Bay Packers.

During his four and a half years at Notre Dame, Gipp did play a little baseball as well as basketball, but he never stayed with either sport long enough to qualify for a monogram, the equivalent of today's varsity letter. Gipp was more interested in gambling than attending classes or playing sports. He lived life on his own terms.

In 1919, the Notre Dame football team completed an undefeated season. Gipp was unstoppable on the football field, but, as a student, he was less than impressive. He often skipped classes in favor of shooting pool and playing cards on campus and at other establishments around South Bend. He also never showed up to take any of his final exams so his report cards contained no grades for any of his classes.

Because of this, he received a letter in March of 1920 from Notre Dame President Father James Burns informing Gipp that he had been suspended from the school. At the time he received the letter, Gipp was at home in Laurium claiming he was sick as the reason why he was not at school.
When word got out that Gipp had been suspended from Notre Dame, about 80 South Bend businessmen and local civic leaders signed a petition trying to get him reinstated at the school. It is believed that Rockne may have been behind the petition and also lobbied to get Gipp back into the school himself. Similar to the thinking that still goes on to this day, it was argued that the attention Gipp brought to Notre Dame through his exploits on the football field were an important recruiting tool for the school. Because of his remarkable football talent, Coach Rockne often looked the other way in regards to Gipp´s academic and personal life.

Other universities, including the University of Michigan, even began recruiting Gipp to come play for them. Before the month of March was over, however, Gipp had been reinstated at Notre Dame with the stipulation that he attend classes, take his exams and graduate with a degree. (Gipp was a Law student)

In September 1920, just as the fall school term was beginning, Gipp was informed that he was being put on probation by the school because he had failed to live up to the terms of his reinstatement in March. However, he was mysteriously reinstated once again, ironically, just days before the first football game of the season.

Gipp would sometimes astonish the crowd during his pre-game warm-up by going to the 50-yard line and drop kicking a couple of footballs through the goalposts at one end of the field and then turning around and sending a couple more though the goalposts at the other end of the field.

On November 12, 1920, the night before a game at Indiana against the Hoosiers, Gipp's fiancé, Iris Trippeer of Indianapolis, who he had met earlier that year, informed him that she had gotten married to someone else. Gipp was devastated by the news, since she had come up to South Bend just the week before during Notre Dame's homecoming week to visit him and had said nothing.

Gipp dislocated his left shoulder and broke his collar bone during the second quarter of the Indiana game and spent most of his time on the bench. But in the fourth quarter, with Notre Dame behind 10-0 and the ball at the Indiana 1-yard line, Rockne asked Gipp if he could get the ball into the end zone. Gipp entered the game but was stopped on a third and goal play, but he did manage to score on fourth down. He then drop kicked the extra point. Gipp then performed the kickoff and even completed a pass before the game was over. Notre Dame went on to win the game, 13-10.

The following week, Notre Dame traveled to Illinois for a game at Northwestern. Gipp dressed for the November 20th game but Rockne kept him on the bench due to his injuries as well as a persistent cough and fever. Late in the game, however, the crowd began chanting, "We want Gipp." Not wanting to disappoint the Notre Dame fans who had traveled to see the game, Gipp asked to go into the game. Rockne reluctantly agreed with Notre Dame leading 21-7 at the time. Incredibly, Gipp completed five of six passes for 129 yards and two touchdowns in his short time on the field. Notre Dame won the game, 33-7.

On Monday, November 22, Gipp checked himself into the St. Joseph Hospital in South Bend. Initially, he was diagnosed with tonsillitis, something that he had been warned about at the beginning of the season. It turned out instead to be strep throat, which today would be easily treatable. But in 1920, penicillin and antibiotics had not been invented yet.

He missed the team's final game of the season on Thanksgiving Day, a 25-0 win at Michigan Agricultural College (today known as Michigan State University) and the team finished undefeated for the second straight season. Gipp was honored that year by being named to Walter Camp's All American team, becoming the first ever player so recognized from Notre Dame.

Gipp spent the next three weeks in the hospital and, near the end, was slipping in and out of a coma. He passed away on December 14, 1920 at the age of 25.

His body was taken by train from South Bend back home to Laurium, Michigan. Accompanied by six teammates, who were his pallbearers, Gipp was buried in the Lakeview Cemetery in the nearby town of Calumet.

Years later, Knute Rockne used Gipp in a motivational halftime speech that has become legendary in the world of sports. The date was November 10, 1928 and Notre Dame was playing Army at Yankee Stadium in New York. That's when Rockne told his players the story of how Gipp, on his death bed, asked Rockne, at some time in the future when the team really needed a victory, to have them win one for the Gipper. It is widely believed that Rockne made his famous speech at halftime when Notre Dame was losing 6-0. But Cavanaugh claims in this book that the speech was actually made before the game. Regardless, Notre Dame came back in the second half to win the game 12-6 and the phrase, "Win one for the Gipper" became a part of football lore.

In the 1940 movie, Knute Rockne, All American, future President Ronald Regan, a Hollywood actor at the time, played George Gipp in the movie. The deathbed conversation is one of the pivotal scenes recreated in the movie.

Rockne was known for embellishing the truth when it came to motivating his players and there is no proof that Gipp actually made the death bed request of Rockne. Even so, ninety years after his death, people know of George Gipp, as well as Knute Rockne, and their place college football history.
See related article; The Grave of George Gipp