As I looked over the entire 2009 af2 schedule, one game caught my attention. It was the June 20 game between the Oklahoma City Yard Dawgz and the Corpus Christi Sharks. Both teams had one thing in common; their head coaches are also former head coaches of the Grand Rapids Rampage.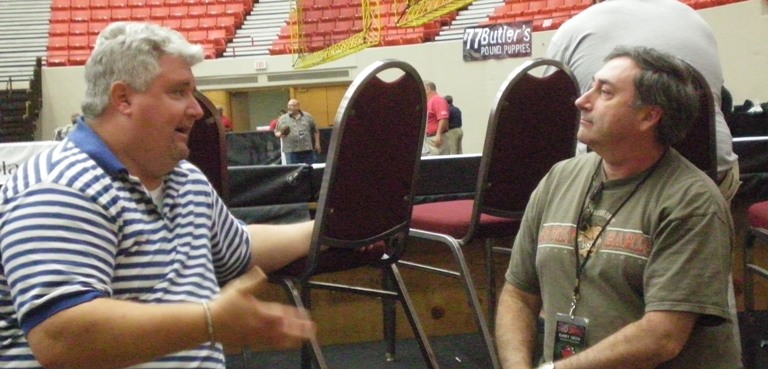 Michael Trigg was the head coach in Grand Rapids from 1998-2003 and led the team the ArenaBowl XV title in 2001. He was the head coach of the Philadelphia Soul in 2004 and has been the head coach of the af2 Sharks since they were founded in 2007. The Sharks also feature kicker Nick Gatto, who played for the Rampage briefly in 2004.
Sparky McEwen started out as a quarterback for the Rampage in 1998. He was the team's offensive coordinator during the 2001 title season under Trigg and was also the head coach in GR from 2005-2007. In 2004, McEwen was an assistant coach in Oklahoma City and took over after then head coach Gary Reasons resigned. He returned as head coach of the Yard Dawgz in 2008. Several people on the team also have ties to Grand Rapids including assistant coach Stan Davis, wide receiver Carlton Brewster, lineman Kelly Butler and lineman Colin Bryant. McEwen still lives in Grand Rapids for seven months out of the year and then lives in Oklahoma City for the five months of the af2 season.
A trip to Oklahoma to see the game would require a 15-hour drive from my home in Michigan, but I could not pass up the opportunity to see these two former GR coaches competing against each other on the field. The two teams met earlier this season in Texas with Trigg and the Sharks coming out on top 65-62.
Since both coaches had AFL head coaching experience, I wanted to get their take on the AFL suspending the 2009 season and why the af2 has been able to continue to operate.
"It's really the structure of the af2 that has us going right now," said Trigg. "It's still an affordable and inexpensive product for the consumer. It's not that expensive to own, manage and operate (a franchise) compared to a lot of other pro sports. The economy is playing a big part in the lack of attendance that we're experiencing overall (this year), so it's a tough time for everyone involved."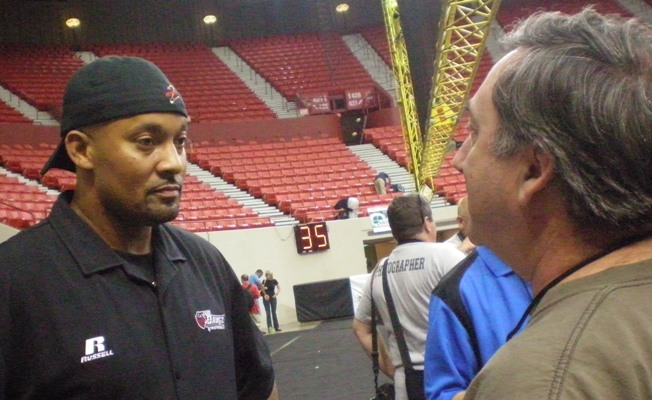 McEwen had his own take on the AFL situation. "It's unfortunate (that the AFL suspended the 2009 season). In today's economy, everyone is starving for a job. When the economy began to take its (downward) turn, it affects everything. There's always a chance that something like that could happen (to the AFL)."
I also wanted to know how different coaching in the af2 was compared to coaching in the AFL.
"It a lot different," said Trigg. "You've got to (recruit) guys a lot harder to come play this game because of the limited amount of money that they make per week. It's a fight. You have to fight and scratch to find guys and convince them that this is a worthwhile [league]. That's why the AFL is so important to us. Without the AFL (as a league to move up to), it's a difficult sell."
While Trigg struggles to recruit players in Corpus Christi, McEwen finds himself in a much better position to find players in Oklahoma City. "Depending on the geographic location of the (af2) team, I think it's going to be a little bit more difficult to recruit players," McEwen said. "I'm excited about my position here in Oklahoma City. We're in Big 12 country! We also have a number of Division II schools playing in the area."
Does either coach want to return to the AFL?
"I've always been an AFL guy, as a player, an assistant coach and as a head coach," Trigg said. "When I was released by Philadelphia it seemed that I had made my run. I have to be realistic for myself. What I've done in the AFL has helped get me this position in Corpus Christi. It's been a tough road for me (in the af2) and I have not enjoyed the success (on the field) that I would have liked to deliver."
On the other hand, McEwen was more upbeat. "I love it here in Oklahoma City. My family also loves it here. Mr. Miller (the Yard Dawgz owner) has treated us all well here. If the AFL comes back, I'll be happy for it, but I'm right at home here in Oklahoma City."
The Yard Dawgz play their home games in the Cox Convention Center in Oklahoma City and they went into the game with a 6-5 record. The Sharks record was 2-9.
The Yard Dawgz opened the game by taking a 22-0 lead and never looked back. At halftime, they were up 59-26, which was a new af2 record for most first half points scored in a single game. The final score was 93-41 and was a new Oklahoma City franchise record for most points in a game.
In the last two years, Trigg and McEwen have faced each other three times on the gridiron. This was the first win by McEwen over his former mentor.
"It's bittersweet for me because I won a world championship with (Trigg)," McEwen said after the game. "I love him, he gave me my shot (in the AFL). He taught me my management skills of the game."
Trigg leads the head-to-head series 2-1 over McEwen. However, his overall record with the Sharks since 2007 is 15-29.
McEwen's Yard Dawgz were 10-6 in 2004 but lost in the first round of the playoffs. They were 6-10 last year and are currently 7-5 this season.
While both men have struggled to establish themselves in the af2, they need look no further than the rings on their fingers to recall better days, and a world championship, in Grand Rapids.
SPECIAL THANKS
I want to extend a special thank you to Jon Hocker, Media Relations Director of the Yard Dawgz and Ryan Haigh, the team's Assistant General Manager for their help while I was in Oklahoma City. I would also like to thank Scott Howe, Media Relations Director of the Corpus Christi Sharks. All three helped make this article possible.
Photos: Top Picture - Michael Trigg, Bottom Picture - Sparky McEwen