Grand Rapids Fan Wears Team Logo with Pride
by Randy Snow
Originally posted on ArenaFan.com, Saturday, May 22, 2004

What is a fan? Is it someone who comes to games only when the team is winning? Is it someone who wears a rainbow wig and holds up a "John 3:16" sign? Or is it someone who comes to every game and cheers for the team, even if they are struggling on the field?
Doug Melven, of Wyoming, Michigan, falls into the last category. You see, Melven attended his first Rampage game back in 2001 when some friends took him to a game for his birthday. After that, he continued to attend Rampage games for the rest of the regular season, throughout the playoffs and all the way to the ArenaBowl championship game where they beat the Nashville Kats, 64-42, on national TV in Grand Rapids. After a season like that, it was inevitable that Melven would become hooked on the team and the sport of Arena football.

In 2002, Melven embraced his love for the team by officially becoming a season ticket holder. Oh, and one other thing, he also went out and got himself a tattoo. But not just any old tattoo, it was the Rampage logo that he had put on his arm.

"This was my first tattoo," said Melven, who added that it took a local tattoo artist less than an hour to complete the design.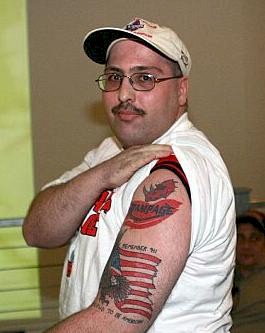 Since getting the Rampage tattoo, Melven has added five more.

"I've got a Grand Rapids Griffins [American Hockey League], a Detroit Red Wings, an American flag and a couple of dragons."

When asked if he plans to get any more, Melven said no.

"I've got all the tattoos I'm gonna get," he said.

The Griffins are a minor league hockey team and are currently an affiliate of the Detroit Red Wings. They also share the Van Andel Arena with the Rampage.

Melven says he's not the only fan that has gone under the needle to show his love for the team. He knows of several other fans that also have Rampage tattoos.

"I saw one that was even bigger than mine," he recalled.

Melven can be found at just about every Rampage home game, cheering on the team from his seat in Section 110. Even though he sits fairly close to the field, there is one thing he has yet to experience. He wants to catch a game ball during a game. He says he's come close a few times, but still no souvenir.

This season, Melven also traveled to a couple of away games to watch the team play. He went to Chicago to see the season opener against the Rush on February 8th and to the Palace of Auburn Hills in Pontiac, Michigan to see the Rampage play the Detroit Fury.

It has been said that the fans in Grand Rapids are some of the best in the all of the Arena Football League, and Doug Melven is one just one example of how much Rampage fans love their team. Tattoos are often used to express love towards one's country, another person, or any number of things. But for one fan in Grand Rapids, the object of his affection is a snarling red rhino.
(Photo by Wayne L. White)