New John Grisham Book Features Football in Italy
by Randy Snow
Originally posted on AmericanChronicle, Thursday, October 18, 2007
Author John Grisham is best known for writing intense courtroom/legal dramas. His previous best sellers include The Firm, The Pelican Brief and A Time to Kill.

However, in his new book, Playing for Pizza, Grisham departs from his usual style of writing to tell the story of a fictional NFL quarterback who winds up in a small town in northern Italy playing, of all things, American football!

When third string quarterback Rick Dockery single-handedly blows a 17-point lead and loses a playoff game in the final minutes, he is released by the Cleveland Browns, run out of town and is also being sought in a paternity suit by one of the team's cheerleaders. He needs to disappear for a while, so his agent finds him a spot on an American football team in Italy.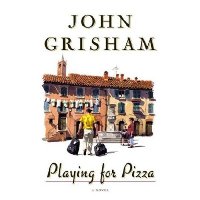 He joins the Parma Panthers, a team in a league called NFL Italy, and learns that the Italians have a real passion for the American game. The fullback on the team is a judge in Parma and the team's center owns a local eatery along with his brother.
Dockery is one of only three Americans on the team, per NFL Italy rules. The rest of the team is comprised of locals, who speak little or no English. The plays are called in English in the huddle by the quarterback and then translated into Italian by one of the other players for the rest of the team.

The Panthers are a far cry from the glitz and glamour of the NFL. The field in Parma was originally built for rugby and soccer. The stadium seats just 3,000 fans, but is rarely full. There is no admission charged to attend the games and the locals who play on the team play for free. Only Dockery and two other American players on the team are paid to play. That is, until the team's top Italian wide receiver decides he wants to be paid also. He then hires a lawyer to act as his agent and to negotiate a contract.

Dockery also has to deal with a fair amount of culture shock in regards to the Italian lifestyle, as he has never been to Europe before. Grisham's description of what day-to-day life in Italy is like is extremely accurate. It took me back to the times when I was in Italy myself. That was a pleasant surprise that I was not expecting to get in a "sports" book.

Just when Dockery is adjusting to his new life in Italy, a newspaper reporter from Cleveland tracks him down and writes a scathing article about how far Dockery has fallen from the NFL. The article does not set well with Dockery or his new team mates.
While Playing for Pizza is a work of fiction, the Parma Panthers and the other teams mentioned in the book are actual American football teams playing in Italy. Teams like the Rome Gladiators, Bergamo Lions, Milan Rhinos, Bologna Warriors and Naples Bandits. In all, there are about 60 teams playing football Americano in various divisions throughout the country.

NFL Italy is an actual league and even has its own Super Bowl. Grisham discovered the league while he was in Italy doing research for another book a few years ago. He talked to several coaches and American players while he was there and even attended one of the Panthers' home games.

Playing for Pizza was enjoyable to read. I knew that there were teams in Italy playing American football before I read it, but the book did a nice job of bringing the league to life. It gives readers a look at what American players must go through each year as they travel abroad and play in obscurity, simply for the love of the game.

A Previous Grisham Book on Football

John Grisham first delved into the football genre in his 2003 book, Bleachers, which is the story of a group of former high school football players who gather in a small town to await the eminent death of the town's legendary high school football coach. As they sit in the bleachers at their old football stadium they reminisce about the coach that they all played for. Some players loved him and wanted to be there at the end to pay their respects to the man at the end of his life. Others hated the coach and couldn't wait for him to die. However they might have felt, the coach had a profound influence on the lives of all of his former players, some positive and some negative.

Links

www.nfli.it - National Football League Italy

www.panthers.it - Parma Panthers team website