Where Are They Now? - Josh Bush
by Randy Snow
Originally posted on WMUBroncos.com, Wednesday, May 24, 2006
When Josh Bush finished his college career at Western Michigan University in 2001, he was the schoolís all-time leader in punt return yardage. But for the past three years, Bush has been playing Wide Receiver/Defensive Back for the Grand Rapids Rampage of the Arena Football League, where there is no punting. However, Bush is still making quite a name for himself in the AFL just the same.
Bush, who played wide receiver and returned kicks at WMU from 1998-2001, was named the Broncos Offensive MVP in his senior season and was also named second team All-MAC the same year. In the fall of 2005, Bush was also named as one of WMUís All-Century Top 100 Players.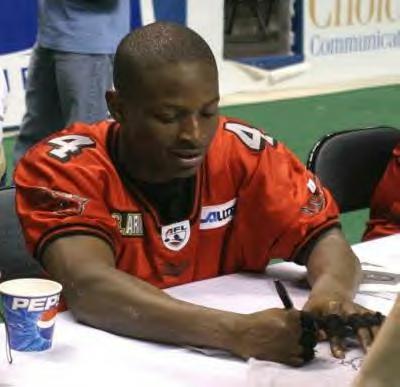 In 2002, Bush and his former WMU teammate, quarterback Jeff Welsh, took part in an open tryout with the Rampage. Welsh was eventually signed by the team and was on the teamís practice squad as the third string QB during the 2003 season. Bush, however, did not make the team.
In the summer of 2003, Bush spent some time playing for the Southwest Michigan Rage, a semi-pro team in Kalamazoo, to work on improving his defensive playing skills as well as playing offense. Arena teams are constantly looking for players that can play both offense and defense, because six of the eight players on an Arena team are required to be two-way players. His time with the Rage paid off. Bush took part in another Rampage open tryout later that fall and this time he was signed by the team and invites to attend training camp.
He made the cut and during his rookie season with the Rampage in 2004, Bush led the team in receiving yards with 714 on 54 receptions. He also had 10 touchdown receptions, one of which tied a league record of 49 yards. (The Arena field is 50 yards in length) Bush also recorded 34 tackles while playing defensive and had 11 kickoff returns for another 224 yards. In the season finale against the Detroit Fury, Bush caught a touchdown pass and also returned a kickoff for a touchdown. He was named Ironman of the Game.
In 2005, Bush had 46 receptions for 604 yards and 11 touchdowns, 21 tackles and 20 kickoff returns for 409 yards.
During the recently completed 2006 Grand Rapids season, Bush had three interceptions on defense, returning one for a touchdown, a fumble recovery and 51 tackles. On offense, he had 65 receptions for 508 yards, 13 touchdowns and scored a pair of two-point conversions. Bush also had 30 kickoff returns for 551 yards and a touchdown.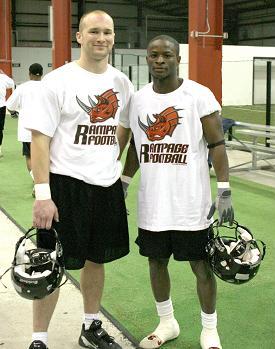 He was named Ironman of the Game twice last past season. In one game, against the Utah Blaze on March 16, Bush was named Ironman and Defensive Player of the Game for his performance, which included three touchdown catches and an interception. He was also named 2-Way Player of the Week that same week by the web site ArenaFan.com.
For the second year in a row, Bush has been featured on an Arena Football League trading card put out by Upper Deck. He can also be seen in the new Arena Football video game by EA Sports that was release earlier this year. Bush wears No. 4 with Grand Rapids, the same number that he wore while playing at Western Michigan.
In his three seasons with the Rampage, Bush has established himself as a player who can do it all on offense, defense and special teams, in spite of the fact that he is listed at only 5í 9"and weighing 170 pounds on the teamís official web site, www.rampagefootball.com.
"This is the team that first game me a chance," said Bush. "They gave me a chance to get my name out there. I appreciate all the coaches that have helped me and for giving me the opportunity to come and play this game. Even though Iím smaller than a lot of other guys, they still gave me a shot. I thank Grand Rapids for that."
A few other WMU players who have also played in the Arena Football League
Tristan Moss (WMU 1992-95) played Defensive Specialist for Grand Rapids in 2000-2001. The Rampage won the ArenaBowl Championship in 2001.He also played for the Chicago Rush in 2002.
Chris Browning (WMU 1999-2002) played Fullback/Linebacker for the Chicago Rush in 2004, the New Orleans VooDoo from 2004-2005 and the Columbus Destroyers in 2006.
Kicker Brad Selent (WMU 1997-2000) played for the Detroit Fury on 2002.
Quarterback Jay McDonagh (WMU 1993-95) was with the Las Vegas Gladiators in 2003 and the Columbus Destroyers in 2004.
Quarterback Tony Kimbrough (WMU 1987-88) played for three different Arena teams, was an assistant coach in Grand Rapids in 2003 and is currently the offensive coordinator of the New York Dragons.
Sean Riley (WMU 1995-96) played Wide Receiver/Defensive Back in the AFL from 1999-2005. He was with the Rampage in 2003 and also played for the Milwaukee Mustangs, Las Vegas Gladiators and Orlando Predators.
Mark Ricks (WMU 1991-92) played Defensive Specialist in the league from 1996-2006. He has played for eight different teams and was with Grand Rapids in 2003 and 2004.
Photos:
Top Photo - Josh Bush signing autographs during a Rampage post-game autograph session
Bottom Photo - Quarterback Jeff Welsh and Josh Bush together at the Rampage training camp in 2004